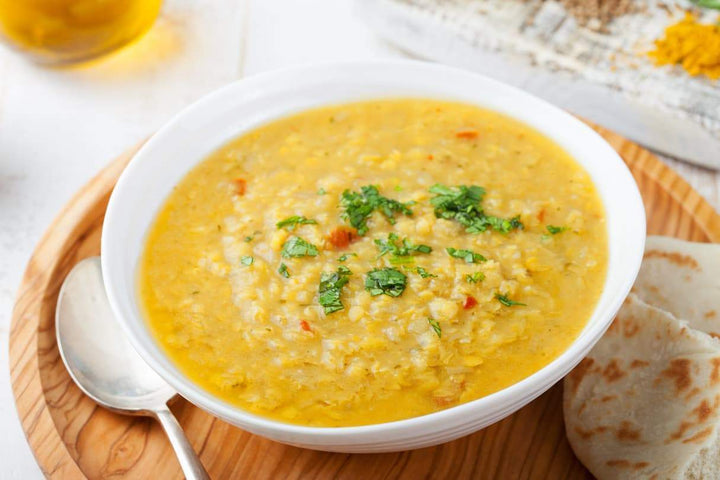 I created this recipe while trying to copy the soup I love at an area restaurant, which was a little too far away to visit frequently. It's not exactly like theirs, but it's very tasty.
Submitted by: Patrick from Naples, FL
Yield: 6 - 8 servings
Spices
Featured in this Recipe
Preparation Instructions:
Pick through dahl to remove any impurities.

Boil dahl in a pot of water for 15 to 20 minutes, until soft but not fully cooked.

Strain dahl and replace the same pot on the stove, on medium high heat. Pour vegetable broth into pot and add dahl. Simmer just below boiling point.

Mash the tomatoes in a large bowl with a potato masher, or other suitable kitchen utensil. Do not discard any of the tomato mixture.

In a small sauce pan, melt the butter on medium to medium high heat. May use more than 4 tablespoons, if desired. Add panch phoran and asafoetida to butter in sauce pan. Spices should sizzle and pop. Immediately, add tomato mixture to sauce pan and coat with butter and spices. Turn to low.

When dahl is nice and soft, add contents of saucepan to the soup pot and stir. Add salt to taste.

Ready to serve.
More About This Recipe
Both panch phoran and asafoetida are strong, unusual spices. They are available at middle-east specialty stores. Make sure you have tasted them to get a feel for their strength and pungency. You may decide to add more or less of these spices based on your preference. If the final soup tastes a little weak to me, I will sometimes add more of these spices directly to the pot a few minutes before serving. Panch phoran is a spice mixture. For more information go to: http://www.earth.li/~kake/cookery/recipes/panch-phoran.html You may also want to garnish the soup with cilantro for an authentic enhancement. This soup reheats very well, and because it is vegetarian, it keeps nicely in a sealed container for 5 or 6 days.
Browse For Similar Recipes