Risotto with Portabello Mushrooms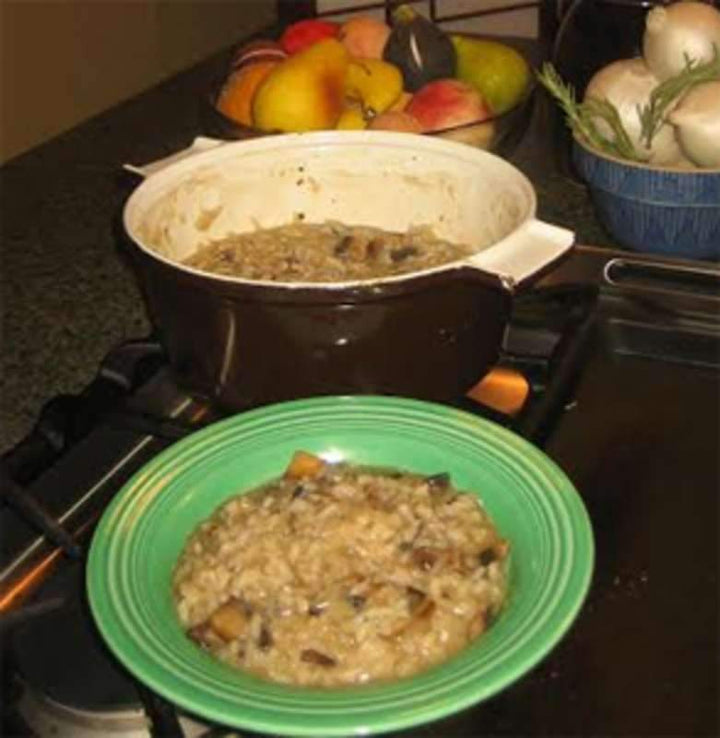 This recipe is courtesy of John Thorne and Matt Lewis, two people we have the utmost respect for. People serious about, and dedicated to, food. Visit them online at
Outlaw Cook
Photo by Ronald Sims.
Submitted by: John Thorne and Matt Lewis from Northhampton, MA
Yield: 2 or 3 as a meal, 4 to 6 as a side dish
Spices
Featured in this Recipe
Preparation Instructions:
Carefully brush the mushrooms clean of any detritus, cutting away the humus- coated stem bottoms. Gently detach the stems from the caps. Cut the stems into small-sized dice and the caps into larger bite-sized cubes. Divide the butter and put an equal portion into a 10-inch nonstick skillet and a nonstick wok, or into 2 skillets—one for sautéing the cubed mushroom caps and the other for preparing the rest of the dish.
Fill a kettle with water, bring it to a boil, and then keep it simmering. Set both skillets over a medium flame. As the butter melts, add the hot red pepper and half a teaspoon of salt to the skillet and a teaspoon of salt to the wok. Turn the cubed mushroom caps into the skillet and the shallots into the wok. When the mushroom caps have wept their liquid and begun to turn brown, remove them from the heat.
Meanwhile, as soon as the shallots turn translucent, add the ice. Stirring continuously with a wooden spoon or spatula, sauté the rice until its coating or starch has turned clear and the rice itself releases a toasty aroma. Turn up the heat to medium-high. Stir in the minced mushroom stems, then immediately pour in the half-glass of wine—or, if this is omitted, the first splash of boiling water from the kettle (or ladleful of hot stock.) As soon as the liquid evaporates, pour in more, about a half cup at a time. Stir regularly.
After 20 minutes, stir the sautéed mushroom caps and parsley in with the shallots and rice. Begin tasting the rice for doneness. When it is tender and pleasantly chewy, remove the pan from the heat. Add the Parmesan, a bit at a time, stirring quite vigorously (this develops the creaminess). Taste the salt adding more if necessary and season generously with freshly ground black pepper. Serve at once.

More About This Recipe
Italian cooks often add a spoonful or so of butter along with the cheese during the final stirring (called the mantecatura- "beating of the pulp"), which emphasizes the creamy richness of the dish. For us this is an option, but an attractive one.
Browse For Similar Recipes