Asparagus with Duck Breast Proscuitto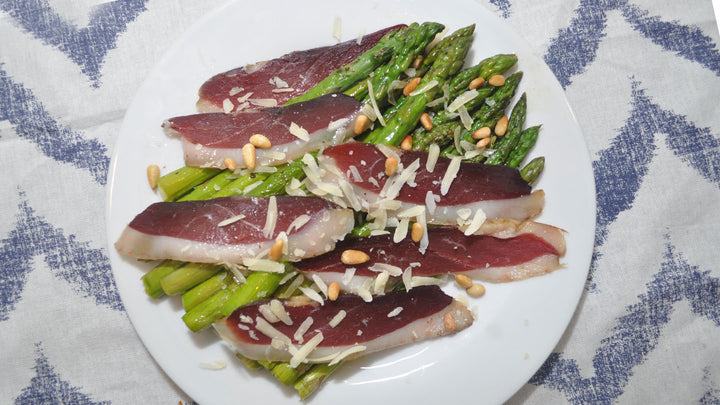 This recipe is simple: Roast asparagus in the oven with salt, pepper and olive oil, and serving with slices of MeatCrafters' Duck Breast Prosciutto. Like it's porky counterpart, the dry-cured duck breast adds a richness to the bright, clean asparagus. As the duck is seasoned with The Spice House broken leaf thyme, granulated garlic, and bay leaf powder, you might want to toss the asparagus in the same spices before roasting.
This recipe comes from our partner MeatCrafters. You can try our spices in their quality sausages and charcuterie.
Preparation Instructions:
1. Preheat oven to 425 degrees Fahrenheit.
2. Place the cleaned asparagus spears on a lined baking sheet, and drizzle with olive oil.
3. Season asparagus with salt, pepper, and spices.
4. Bake asparagus for 10-13 minutes or until tender, but not limp.
5. Pull the pan from the oven, and sprinkle on the lemon juice.
6. Plate and shingle with thin slices of duck breast prosciutto.
7. Top with toasted pine nuts and grated parmesan.

Browse For Similar Recipes