Dark Chocolate, Sunflower Seed & Sea Salt Cookies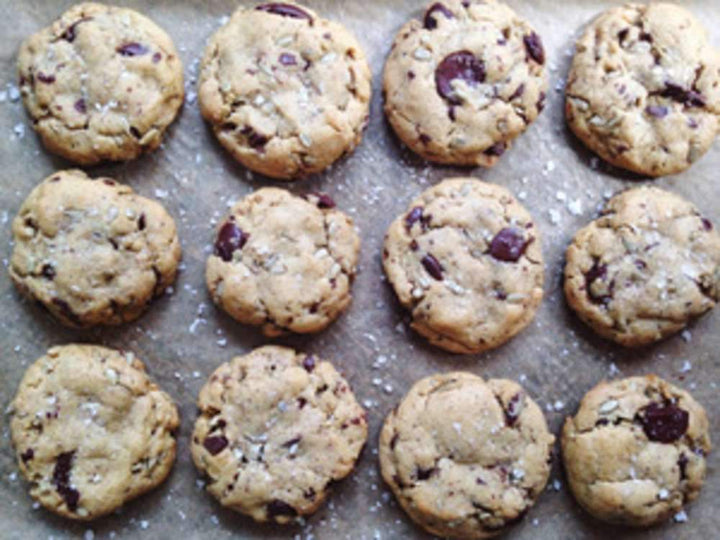 These cookies are inspired by the most incredible chocolate I had when we were in Vancouver. With the nutty flavor from brown butter and sunflower seeds and the salty topping from The Spice House's fabulous grey sea salt, these are just about as good as it gets. Miles declared these the best cookies I have ever made... win!
Submitted by: Marie from Little Kitchie,

Spices
Featured in this Recipe
Preparation Instructions:
Melt 8 tablespoons of butter in a medium skillet over medium heat, swirling it in the pan. It will become foamy as it cooks and make a crackling noise. Continue to swirl as the butter starts to smell nutty and brown bits form at the bottom of the pan. Once the bits are amber, remove the butter from the burner and pour into a small bowl (including the brown bits... the best part!) to cool for about 20 minutes.

In the bowl of a stand mixer, beat the remaining 1/2 cup butter with the brown sugar for 3-5 minutes, until smooth and fluffy. Beat in the vanilla extract and molasses.
Pour the cooled brown butter into the bowl, along with the granulated sugar. Beat for 2 minutes, until smooth; the mixture will be light and fluffy.
Add the egg and egg yolk, and beat for 1 more minute.
Add the flour, salt, and baking soda, beating on low speed just until everything is incorporated.
Remove the bowl from the stand mixer and use a spatula to fold in the dark chocolate and sunflower seeds. Cover the bowl with plastic wrap and refrigerate for at least 30 minutes or up to overnight.
About 15 minutes before you're ready to begin baking, preheat your oven to 350°F.
Scoop the dough in 2 tablespoon-sized balls onto the prepared baking sheets. Leave about 2 inches between the cookies. Sprinkle the cookies with grey sea salt.
Bake the cookies for 13-15 minutes, until they're golden brown. Remove them from the oven, and allow them to rest on the baking sheet for at least 5 minutes before transferring them to a wire rack to cool.
Browse For Similar Recipes