Porcini Mushrooms with Cream and Parmesan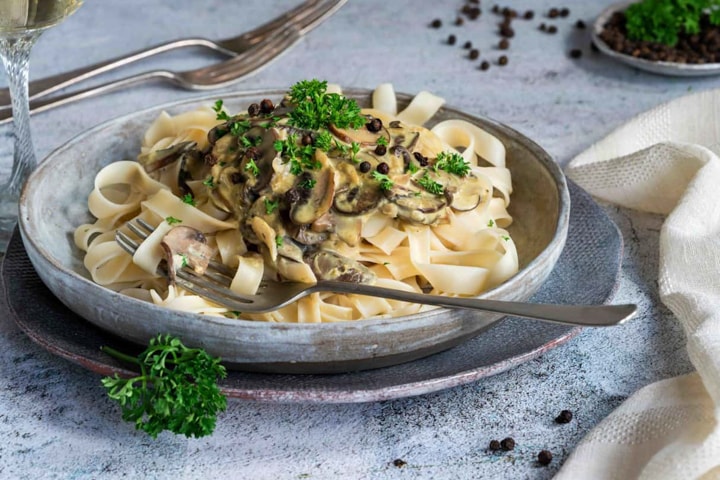 This elegant sauce showcases the earthy flavor of dried porcini mushrooms in the simplest manner possible. The reconstituted mushrooms and their soaking liquid are cooked down into a sauce that concentrates their flavor.
A small amount of cream is swirled in at the last minute to enrich the earthy mushrooms. A generous dusting of parmesan in this creamy porcini mushroom pasta recipe adds a nutty flavor. Recipe from Pasta E Verdura by Jack Bishop (HarperCollinsPublishers; April 10, 1996)
Yield: Serves 4
Spices
Featured in this Recipe
Preparation Instructions:


Bring 4 quarts of salted water to boil in a large pot for cooking the pasta.



Place the porcini mushrooms in a small bowl and cover them with 2 cups of hot water. Soak for 20 minutes. Carefully lift the mushrooms from the liquid and pick through them to remove any foreign debris. Chop the mushrooms, Strain the soaking liquid through a colander lined with paper towels. Reserve the porcini mushrooms and the strained soaking liquid separately.



Melt the butter in a large skillet. When the butter foams, add the onions and saute over medium heat until they are just beginning to brown around the edges, about 7 minutes.



Add the chopped porcini mushrooms, salt, and pepper to the pan and cook for 2 minutes. Add the porcini soaking liquid and simmer briskly until the liquid has been reduced by half, about 10 minutes. The sauce should no longer be soupy, but don't reduce the sauce so much that the pan becomes dry.



Stir the cream into the pan and simmer just until the sauce thickens, about 2 minutes. Taste for salt and pepper and adjust the seasonings if necessary.



While preparing the sauce, cook and drain the pasta. Toss the hot pasta with the mushroom sauce and &frac12 cup grated Parmesan. Mix well and transfer portions to warm pasta bowls. Serve immediately with more grated cheese passed separately.


More About This Recipe
Best Pasta Choice: Fettuccine or other long, wide pasta
Browse For Similar Recipes