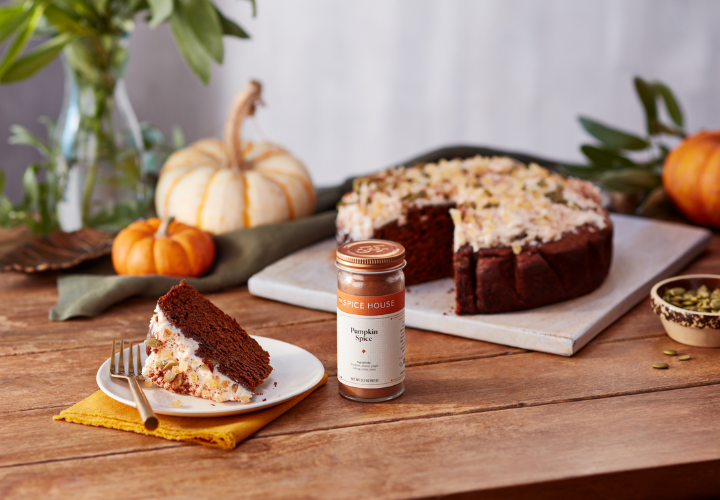 Pumpkin Spice is a timeless combination of spices that encapsulates the warmth and richness of the fall season. We love it in this delicious Brown Butter Spice Cake.
Spices
Featured in this Recipe
Preparation Instructions:
Line a 9-inch springform pan with parchment paper. Lightly spray the parchment with baking spray. Preheat oven to 350F. Place springform pan on a baking sheet in case of any leaks.

Melt butter in a small saucepan, over low heat. Continue cooking butter until butter becomes a toasty brown and smells nutty (about 8-10 minutes over low heat).

Transfer butter to a metal or glass bow and place in freezer to firm up. While the butter is chilling, measure the remaining ingredients.

In a medium bowl, whisk together flour, baking soda, salt, cinnamon, ginger, cloves, allspice, and nutmeg. Set aside. Whisk molasses with hot water and set aside.

Once the butter has become a soft solid again, in the bowl of a stand mixer, beat butter and brown sugar until creamy and fluffy. Add eggs, one at a time, beating to combine after each addition. Add vanilla and pumpkin puree.

Alternate adding molasses mixture and flour mixture to butter, mixing only enough to combine. Do not over mix or the cake will be tough.

Transfer cake to a lined pan and bake for 45 minutes or until a cake tester comes out clean. Transfer to a cooling rack and cool completely before removing from the pan. Top with your favorite frosting and an optional sprinkle of pumpkin spice, ginger nibs, or pepitas.
Browse For Similar Recipes