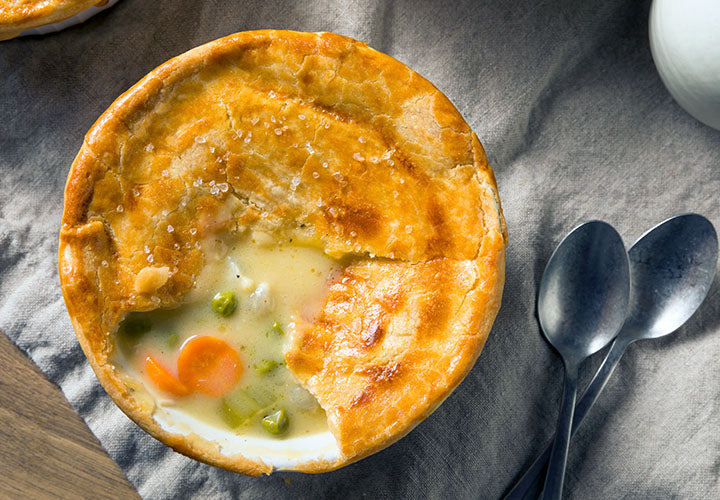 I'm a culinary student and one of my classes was covering French sauces- including veloute. I wanted to practice veloute at home and thought a chicken pot pie with winter veggies would be perfect! Veloute is one of the French mother sauces. It is very simple- stock thickened with roux and very rich-tasting. I think this richness is balanced by the earthiness of the vegetables in the pot pie. Although most pot pies don't have celery root in them, the flavor is so fantastic that I couldn't pass it up. Especially when paired with the carrots and potatoes- they have a similar hearty texture that really holds up in this dish.
Submitted by: Meghan from Evanston, IL
Yield: 4 servings
Preparation Instructions:
-Preheat oven to 400 degrees.

-Lightly grease a 1.5 qt round baking dish. (You can use the paper wrapper from the butter to do the greasing)

-Have a large bowl and strainer ready.

-In a large pot, bring chicken stock to a boil.

-Add in all vegetables and cook until tender-crisp.

-Strain contents of pot, reserving stock in the large bowl and vegetables in strainer.

-In the pot, melt butter over medium heat.

-Whisk in the flour and while continuing to whisk, cook for 4 minutes or until a pale golden color is achieved.

-Whisk in the warm, reserved chicken stock until smooth and thick.

-Stir in lemon juice and seasonings. Taste and adjust as necessary.

-Add chicken and vegetables to sauce and stir so that ingredients are evenly distributed.

-Pour this mixture into the baking dish.

-Place a puff pastry sheet over the top of the dish and trim slightly (at the corners of the pastry).

-Brush the top of the pastry lightly with the beaten egg. You will not need all of the egg.

-Bake in the preheated oven until pastry is golden brown (about 20 minutes).

-Allow pot pie to sit for 5 minutes or so before serving.

-Enjoy!
More About This Recipe
This is a fun recipe to get creative with cutting vents for the top crust. You can also cut out decorative pieces of extra dough and glue them to the top with the egg wash.
If you enjoyed this recipe, check out more baking recipes here.
Browse For Similar Recipes