Grandma Rosenbaum's Persimmon Pudding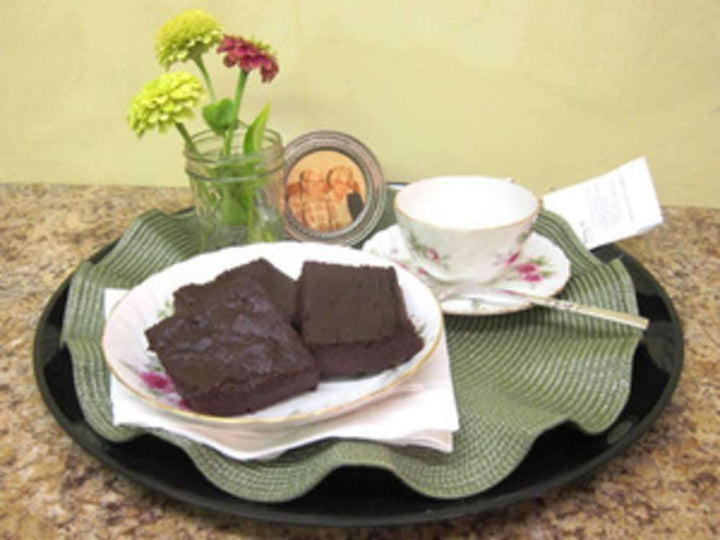 Grandma Lois Rosenbaum was my husband's maternal grandmother. I first tasted this pudding in 1971 and was delighted by its rich texture and tart, fruity taste. I didn't know a pudding could be baked into the form of a cake. I had never tasted anything like it! Since my only surviving grandmother had always lived so far from me, Lois was happy for me to adopt her as my grandma. Traditionally, she served this pudding each Thanksgiving and Christmas with sweetened whipped cream. My husband's mother told me there never was a Thanksgiving or Christmas that she did not make it, as everyone looked forward to having some. When she passed away in 1991, my sister-in-law became the keeper of the recipe and she began to serve it to the family at our gatherings for Thanksgiving and Christmas to keep tradition going. She was honored to let me serve it here today. Grandma Rosenbaum was a firm, but loving, second generation, American-born of German immigrants named Baugh. She met her husband, Ralph Rosenbaum, in Bedford, Indiana. They got engaged within three days and married six weeks later. They remained married for over 69 years. He preceded her in death in October, 1990. On Mother's day 1991, she leaned over to my husband as they posed for a photo and said, 'I miss Ralph.' Within two weeks, she had gone to be with him in eternity. No matter what time of day someone would show up at her home for a visit, she rose and cooked them a meal. That was her way. We all miss her so.
Submitted by: Betsy from Mooresville, Indiana

Spices
Featured in this Recipe
Preparation Instructions:
1) Preheat oven to 350 0 F and grease a 11" X13" gIass baking pan.
2) Mix flour, ground cinnamon and nutmeg in a small bowl and set aside.
3) In large mixing bowl, mix buttermilk and baking soda. Add pulp, sugar, and eggs, and beat on medium until well blended.
4) Add cooled, melted butter and mix until well blended.
5) Add 1/2 of the flour mixture and blend on low speed until fully incorporated into batter. Add last half flour mixture and, again, blend on low speed until fully incorporated into batter. Increase to medium speed, and beat for 2 minutes.
6) Turn batter into 9" X 13" greased, glass baking pan.
7) Bake on middle rack for about 1 hour. Test middle of pudding with a toothpick. When it comes out clean, the pudding is done.
8) Remove from oven and place on cooling rack.
9) Cool completely: at least one hour.
10) Slice into 12 equal pieces.
Pudding can be served with fresh, whipped cream, or dusted with powdered sugar.
Browse For Similar Recipes