Mediterranean Whole Char-Grilled Garlic & Herb Branzino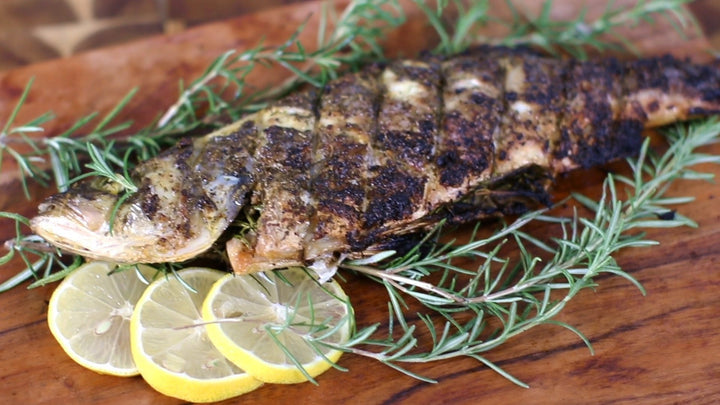 Branzino, also known as Branzini, loupe de mer and European seabass, is one of my favorite fish to prepare whole. The flavor is mild yet distinct, the flesh is firm, and the bones are easy to work around. Thanks to The Spice House's Garlic & Herb Mediterranean Spice Blend the recipe is made even easier! This recipe calls for using natural lump charcoal on the barbecue. This fuel is an ideal way to get authentic Mediterranean flavor since the coals impart a wonderful smoky flavor. I use a fish grate when I barbeque fish. It's a safety precaution that ensures that my fish won't stick.
Watch the full recipe video here.
Yield: 2-4
Preparation Instructions:
Start your barbecue coals.

In a medium sized bowl, add The Spice House spice mix along with the and juice and zest of ½ lemon and enough olive oil to create a paste. Set aside and prep the fish.

Use a sharp knife to score the fish three times on both sides. Stuff the fresh rosemary into the cavity of each fish. Place on a plate, and slather each side of the fish with the Mediterranean paste. If using a fish grate, add the fish to the grate.

Add the fish to the grill and grill for 6-8 minutes on each side.
Browse For Similar Recipes