Spicy Tofu with Beef and Szechuan Peppercorns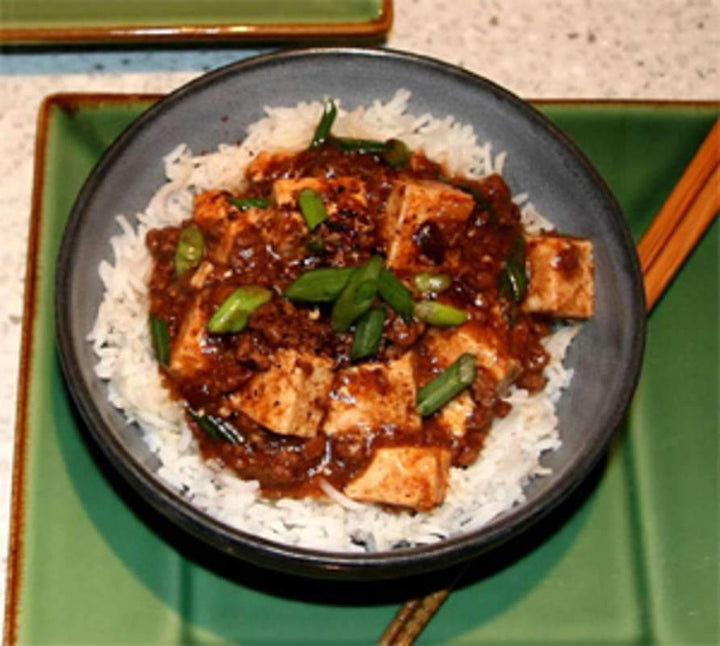 Submitted by: Kate from 37 Cooks,

Spices
Featured in this Recipe
Preparation Instructions:
Bring a kettle with at least 1 1/3 cups water to a boil and set aside, keeping the water warm until needed.

Bring your wok to a medium heat and add the sichuan peppercorns. Toast the peppercorns for about 3 minutes, or until slightly darkened, tossing them constantly to prevent scorching. Remove them to plate to cool, then either use a mortar and pestle or a spice grinder to grind the toasted spice.

Bring the heat up on the wok to high. Add vegetable oil, then the ground beef, using a spoon to break up the meat into small pieces.

When the beef is cooked through (about 2-3 minutes), add the ginger, red pepper flakes, fermented beans and chile bean sauce. Continue cooking on high for another 2-3 minutes. The meat and oil should both take on a red color.

Stir in sugar, soy sauce and tofu. Stir gently and shake the wok to mix in the tofu without breaking it up.

Pour in the 1 1/3 cup of hot water, and bring the mixture to a boil. Continue cooking over high heat, stirring and gently shaking, until the tofu absorbs most of the flavorful liquid.

Taste the sauce and add salt or more sugar, if desired. Throw in the green onions and stir. Next, stir in the cornstarch slurry to thicken the sauce, which will be on the thinner side, more like a soup than a gravy.

Lastly, stir in the ground, toasted peppercorns. Serve immediately atop rice.
Browse For Similar Recipes