Peasant-Styled Roasted Chicken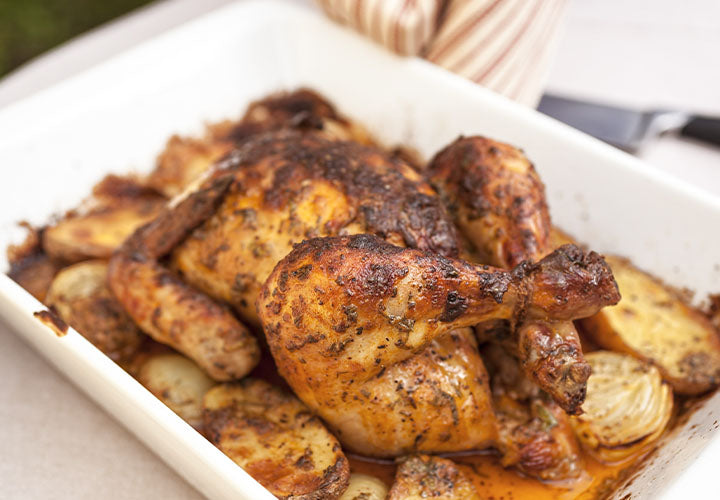 This is a simple peasant dished that is both easy and very inexpensive to make (Under $10!). serve with Ratatouille vegetables and everybody will think you really know what you're doing!
Submitted by: Chef Peter from Elgin, Il
Yield: 4-6 servings
Spices
Featured in this Recipe
Preparation Instructions:
Place butter in a bowl and allow to get very soft.
Split Chicken and splay open.
Mix Herbs de Provence and Bloody Mary Mate into butter.
Lift skin of chicken and rub seasoned butter over as much of the chicken under the skin as possible. Spread remainder on outer skin of Chicken.
Place chicken into roasting pan, uncovered and put into an oven pre-heated to 250 degrees. allow to roast for 1 1/2 hours.

Cut potatoes into 1/4 inch discs and place in roasting pan with chicken. Allow to roast another 1-1/2 hours.

Serve.

More About This Recipe
You may add finely chopped garlic to the butter as well, if you so desire. Goes wonderfully with Ratatouille vegetables.
If you enjoyed this recipe, check out more French recipes here.
Browse For Similar Recipes