Veggie Loaded Macaroni and Cheese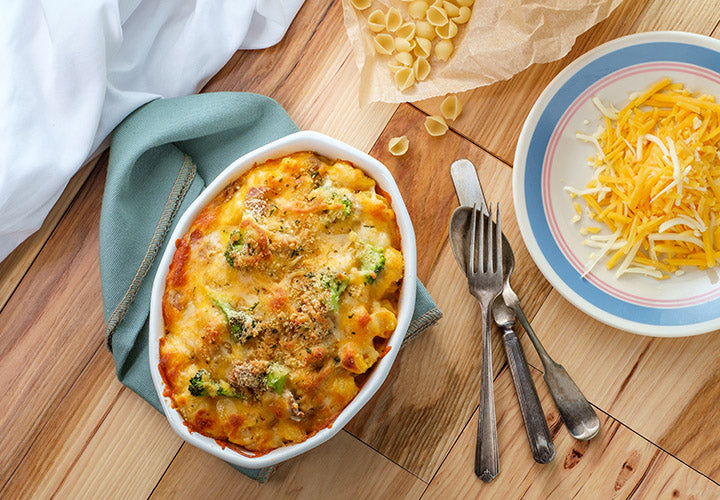 We have game night with potluck once a month at my retirement village and I made this up so the vegetarians could share in a non-meat entree. Its delicious and with the kale and broccoli, is a little healthier than just pasta.
Submitted by: Helen from Escondido, CA
Yield: 10-12
Spices
Featured in this Recipe
Preparation Instructions:
Cook pasta in salted water until al dente. Drain – do not rinse. If you can, save the water after pasta is done to cook veggies.

Cook the kale and broccoli in salted water for 5 minutes. Do not overcook.

Place cooked pasta and veggies in a mixing bowl and toss with three tablespoons butter so pasta does not stick together.

Melt other three tablespoons of butter in a sauce pot, add flour, whisk together, and cook gently to make a roux. Add your spices except for paprika to this roux and let it cook gently for a minute to bloom the spices.

Gently add milk, mustard, and sour cream to the pot stirring gently as it comes close to a boil and thickens. Do not let this boil or burn, let it come close to a boil. Add three cups of cheese to the sauce and stir until melted. At this point you can turn off the flame and let residual heat melt the cheese.

Pour sauce over the pasta, kale, and broccoli. Stir with a spatula until combined.

Pour everything into a greased casserole dish and top with remaining cup of shredded cheese and sprinkle the smoked paprika over the top.

Bake at 350 for 12-15 minutes until cheese has melted on top.
More About This Recipe
I use Mozzerella, jack and Sharp white cheddar, but any combination of cheeses or just one can be substituted. Jack and cheddar alone is very good, or pepper jack, Cheddar and smoked gouda would be good I never use any other Herb de Province except the Spice House blend for its unique and strong flavor.
Browse For Similar Recipes