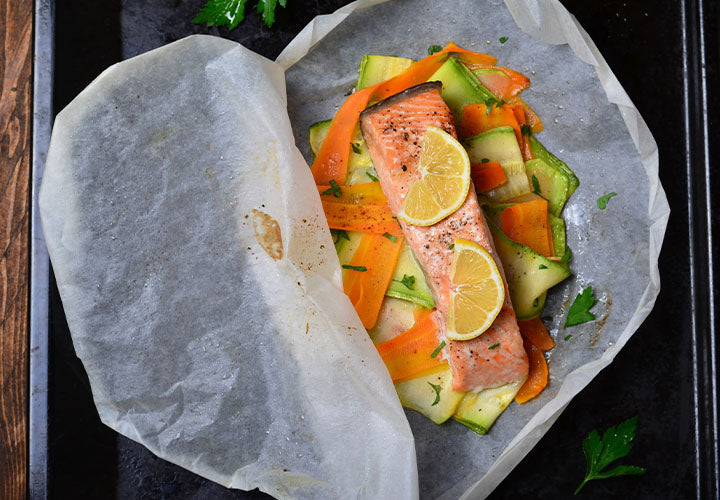 Cooking anything 'en papillote' lends an elegant and aromatic experience with absolute ease in the kitchen. Experiment with different vegetables, fish, and your favorite seasonings. This is a great dish to serve at a dinner party. Let your guests open the parchment paper at their seat, releasing the tempting aromas of the dish.
Yield: 1 serving
Spices
Featured in this Recipe
Preparation Instructions:
1. Preheat oven to 375 fahrenheit

2. Take a large piece of parchment paper, fold it in half and cut it so that it looks like a heart when unfolded.

3. Toss vegetables and one lemon slice in olive oil and season with Lake Shore Drive seasoning. Place on one half of the folded parchment paper.

4. Place salmon filet over vegetables, brush with olive oil, and season with Lake Shore Drive. Place lemon slices over fish, add a splash of wine over everything, fold parchment paper over the dish and pinch or fold edges to seal the everything so it can steam in the oven.

5. Cook for 13-15 minutes, (the fish should reach an internal temperature of 145 fahrenheit.) The paper will likely puff up slightly like a ballon. Let the dish rest for 3-5 minutes so it can continue steaming.

Serving the dish: You can remove the dish from the parchment and plate to your liking, or serve it right in the paper. Serving it in the paper is a more interactive and aromatic experience for your guests. Place on a plate, make a small cut through the paper, and serve!
More About This Recipe
"En papillote" is French for literally, "in parchment" This method is perfect for cooking filets of fish, chicken chicken breasts, and even large mushrooms. Play around with other vegetables like fingerling potatoes or parsnips and try any seasoning you like. One tip for larger or firmer vegetables is to lightly par-cook them in water before cooking in the parchment. For a real French flavor, use our Herbes de Provence blend.
If you enjoyed this recipe, check out more French recipes here.
Browse For Similar Recipes