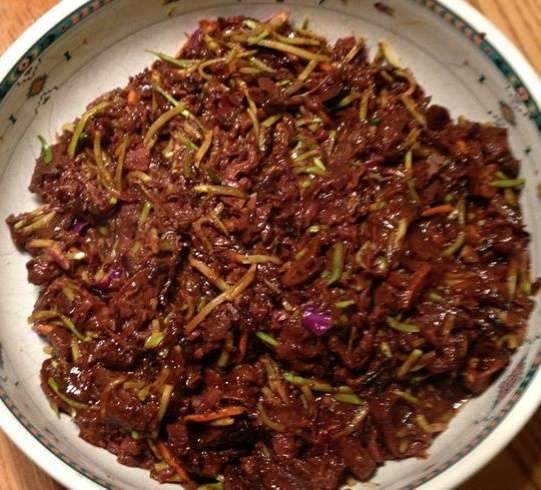 This is one of those long stewing dishes for cold days in Chicago that will fill your home with the aromatic scents of the east! Typical of many Szechuan dishes, there are a lot of ingredients which provide a variety of different but complementary flavors.
Submitted by: Michael from Rochester Hills, Michigan
Yield: 6-8 Servings
Spices
Featured in this Recipe
Preparation Instructions:
1. Preheat Oven to 300°
2. Place a 13x9x2 disposable aluminum baking pan onto a sturdy cookie sheet
3. Place the beef shanks into the pan and leave some space for a spice ball
4. Place the Star Anise and Tiger Lily Buds into a spice ball and nestle it it with the beef shanks
5. Evenly cover the shanks with the mushrooms, wood ear, ginger root and leek riglets
6. Place the orange Zest spiral on top
7. Evenly sprinkle the ground Szechuan peppercorns and the 5-Spice over everything
8. Mix the broth and the sauces together and then gently and slowly pour into the pan. You may not be able to use it all as you don't want to overflow the pan.
9. Cover the top of the pan with a couple layers of aluminum foil to prevent leakage and poke a hole in the center so some steam can escape
10. Place in the oven and bake for six hours
11. When done, remove the foil, discard the orange zest and carefully remove the shank bones
12. Pour the contents of the pan into a bowl and mix well

More About This Recipe
1. Any decent asian food market will have the "real" sauces, wood ear, and whole spices. I highly recommend them over the typical supermarket selections. 2. The meat can be tossed with your choice of stir-fried vegetables - Broccoli, snow peas, red bell pepper, water chestnuts, whatever. I personally toss this with a 12 oz. package of red cabbage coleslaw mix 3. This is NOT a low-sodium dish. Be careful if you or any one you're serving to has restrictions.
Browse For Similar Recipes