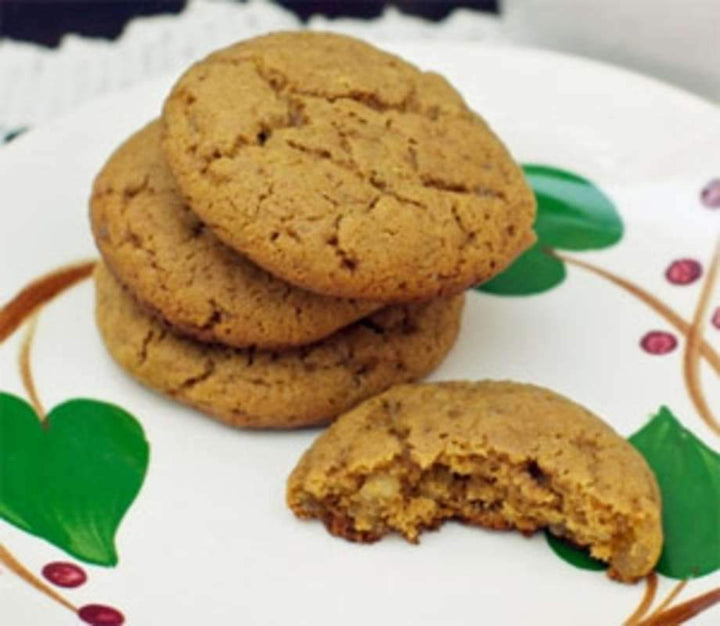 These cookies have gone through several incarnations. Cindy Wallner sent us the recipe that her mother adapted from Bon Appétit, March 2000. She says 'These are the best, snappiest ginger snaps! My mom made these with crystallized ginger from The Spice House, and they were phenomenal!' When The Spice House started carrying a product known as ginger nibs in our shop, we adapted the recipe to use these convenient little uniform pieces of ginger instead of the crystallized ginger. They are really tasty and so much easier than cutting candied ginger into pieces. To make the cookies extra gingery, we roll them in a ginger sugar before baking. (See notes for making ginger sugar.) You can also roll them in Chicago Old Town spiced sugar for a delicious variation. Photo courtesy of
She Cooks He Cleans
; for a
gluten-free
version of this recipe please visit their
blog
.
Submitted by: The Spice House; from Cindy Wallner of Evanston, IL
Yield: Makes about 30 cookies
Spices
Featured in this Recipe
Preparation Instructions:
Combine first 6 ingredients in medium bowl; whisk to blend. Mix in crystallized ginger.

Using electric mixer, beat brown sugar, shortening and butter in large bowl until fluffy. Add egg and molasses and beat until blended. Add fresh ginger juice now, if you're using it.

Add dry flour mixture and mix just until blended. Cover and refrigerate 1 hour.

Preheat oven to 350°F. Lightly butter 2 baking sheets. Spoon sugar in thick layer onto small plate. Using wet hands, form dough into 1 1/4-inch balls; roll in sugar to coat completely. Place balls on prepared sheets, spacing 2 inches apart.

Bake cookies until cracked on top but still soft to touch, about 12 minutes. Cool on sheets 1 minute. Carefully transfer to racks and cool.

Can be made 5 days ahead. Store airtight at room temperature.
More About This Recipe
Arrange the soft, spicy cookies on a platter with apples and Vermont cheddar cheese; also serve hot cider or hot buttered rum. Fresh ginger juice adds a great zip! You can easily juice fresh ginger root using a normal garlic press, but make sure it's free of garlic flavor first. Here at The Spice House, we get ginger in 50 pound boxes. Once we repackage them into bags for sale, we always end up with a few ounces of just ginger flavored sugar at the end of the process. It seemed such a shame to it away, so we are always looking for uses for the ginger-sugar. That is how we came up with the idea of rolling the cookies in them. When we tried it, they were even yummier! (We also give it to a local bar manager who uses it to rim the glass of a really delicious ginger martini) We usually store extra ginger sugar in case anyone has a use for it, just ask us next time you are in the shop. To make your own ginger sugar, just mix 1 teaspoon freshly ground ginger with a quarter cup of granulated sugar, and shake well. When we have parties at The Spice House, we like to complement the platter of these cookies with thin slices of crystallized ginger dipped in chocolate. Our customers lamented that Macy's used to sell these many years ago and they missed them. We discovered that it was fairly easy to melt a high quality dark chocolate in the microwave. Just dip half the ginger in the bowl of chocolate, and then place on wax or parchment paper. Refrigerate until the chocolate hardens.
Browse For Similar Recipes