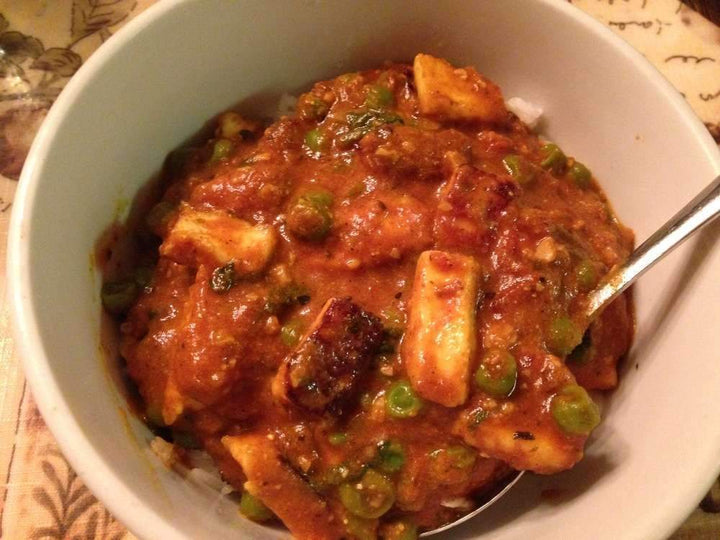 Paneer (or Panir) is an acid-set cheese, which is what gives it such a high melting point. A coworker from India says that his family traditionally made it from cow's milk set with lemon juice. However, I would imagine that families in India would use whatever milk and acids were available at the time. We got Nubian dairy goats in August 2017, so we've been making the paneer with goat's milk and setting it with white vinegar. If you don't want to make it, you should be able to buy it in Indian groceries, or substitute queso blanco (note: not queso fresco...two entirely different cheeses) if that is available. You could substitute tofu for the paneer in this recipe and make it vegan. Curry powders: I selected this mix of curry powder based on ingredient lists from a number of online recipes. I actually wrote down the measurements instead of eyeballing it like I usually do. My first attempt tasted excellent, so I haven't tinkered with the curry mix. You may find a different combination that is even more pleasing to your palate!
Submitted by: Greg from Troy, Texas
Yield: Roughly 4 lbs
Spices
Featured in this Recipe
Preparation Instructions:
1. Cut paneer into bite sized pieces (cubes or sticks) and sauté in olive oil until browned on one of more sides for each piece. Remove from skillet and set aside. (Note: paneer should not melt, even at this temperature)
2. In the same skillet, if using raw onions, sauté onions in olive oil until translucent, then add tomato sauce. If using diced tomatoes, heat to a simmer and puree with a stick blender. Add dried onions if using them.
3. Add curry powders, seasoning and honey, and continue to simmer.
3. Heat frozen peas in a microwave, then add to the skillet.
4. Add crushed cashews and yogurt while continuing to stir until dish thickens slightly.
5. Stir in paneer and cilantro to taste.
6. Serve over rice (Jasmine or other) or with naan.

More About This Recipe
Swap HOT Curry instead of SWEET for an extra kick.
Browse For Similar Recipes