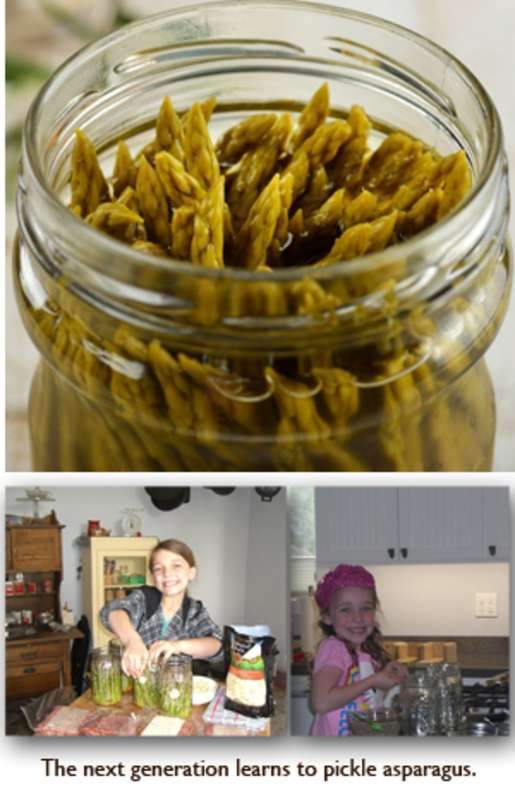 Mom started me canning at a very early age. This recipe quickly became a personal favorite, not only for me but for a group of young people who asked that I teach them to can. Canning pickled asparagus has now become an annual event - yesterday we did 70 quarts - our youngest participant was 5 years old.
Submitted by: Bev from Baker City, OR
Yield: 7 quarts
Spices
Featured in this Recipe
Preparation Instructions:
Bring first three ingredients to a boil to make the brine.

In each quart jar add the dill seed, mustard seed, peppercorns and turmeric. Pack jars tightly with cleaned asparagus. Add cloves of garlic.

Have lids hot, pour hot brine over packed asparagus - water bath for 10 minutes after water comes to a boil.
More About This Recipe
Use well water if possible. As the spears expand during the water bath be sure to leave 1/2 inch head space at top of jar and don't turn rings on too tight. If you can as many jars as we do, make a jig to use as a cutting guide - inside measurements 5" long; 2 and 3/4 inch high and 3 1/2 inches across - cuts the time in half and the jars come out looking like a pro every time. Add 1 teaspoon per jar Diced Jalapenos for a slightly spicy pickle. The leftover ends of asparagus are wonderful for cream of asparagus soup. Cook them with onions in chicken broth, puree, and add cream and seasonings, or freeze the puree for use later. Canning or pickling salt is salt without added iodine or anti-caking agents. While you can find salts labeled as canning salt in some grocery stores, any non-iodized salt like our Kosher Salt will work.
Browse For Similar Recipes