Port-braised Short Ribs with Ginger and Star Anise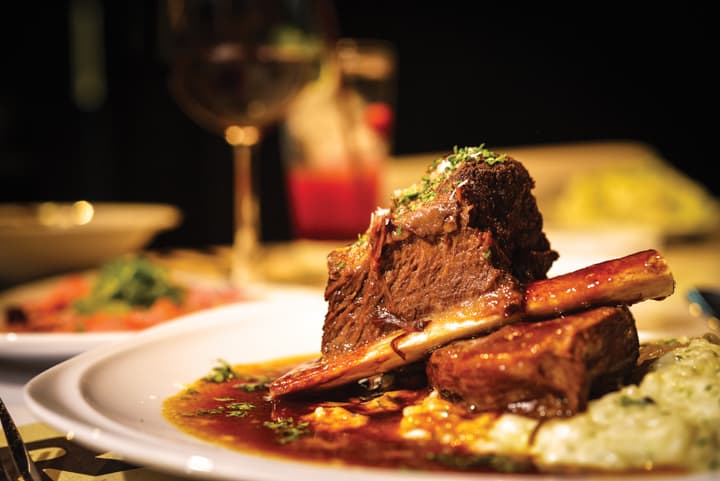 This is a fabulous recipe from Sunset Magazine, with a few changes of my own. I've made these ribs several times for company and have always been asked for the recipe.
Submitted by: Shirley from Third Lake, IL
Yield: 4 servings
Preparation Instructions:
Rinse ribs and pat dry; trim off and discard excess fat. Sprinkle ribs lightly all over with salt and pepper, and place in a single layer, bones down, in a 12x17 inch roasting pan.

Bake in a 450° regular, or convection, oven until meat is beginning to brown, 15 to 20 minutes.

With tongs, turn ribs. Add onion, carrots, celery, and ginger to pan around ribs. Then, mix to coat with fat in pan, and spread level. Bake until ribs are well browned and vegetables are beginning to brown, 15 to 20 minutes longer.

Meanwhile, wrap peppercorns, star anise, cinnamon stick, and rosemary in a double layer of cheesecloth, 10 inches square; tie closed with heavy cotton string.

To pan, add broth, tangerine juice, port, and spice bundle. Stir gently to mix and scrape browned bits free from bottom. Cover pan tightly with foil.

Bake in a 325° regular, or convection, oven until meat is very tender when pierced, 2-2 1/2 hours. Uncover pan and discard spice bundle. With tongs, transfer ribs to a rimmed platter; cover and keep warm in a 200° oven.

Skim and discard fat from pan juices. Boil over high heat, stirring often, until reduced to 2 1/2 cups, about 10 minutes. Add tangerine slices and cook just until heated through, about 1 minute.

Pour sauce over ribs on platter. Garnish with rosemary. Add salt and pepper to taste.


More About This Recipe
I always use tangerine juice rather than orange, but if the juice isn't particularly sweet -- and sometimes you just can't seem to find a delicious piece of fruit -- then I add 1/3 - 1/2 cup golden raisins. It adds a wonderful sweetness to the flavor. Serve these ribs, with their flavorful sauce, over cooked rice. Per serving: 434 cal., 39% (171 cal.) from fat; 41 g protein; 19 g fat (8.1 g sat.); 23 g carbo (2.8 g fiber); 216 mg sodium; 110 mg chol.
Browse For Similar Recipes