Potato Curry with Peas and Carrots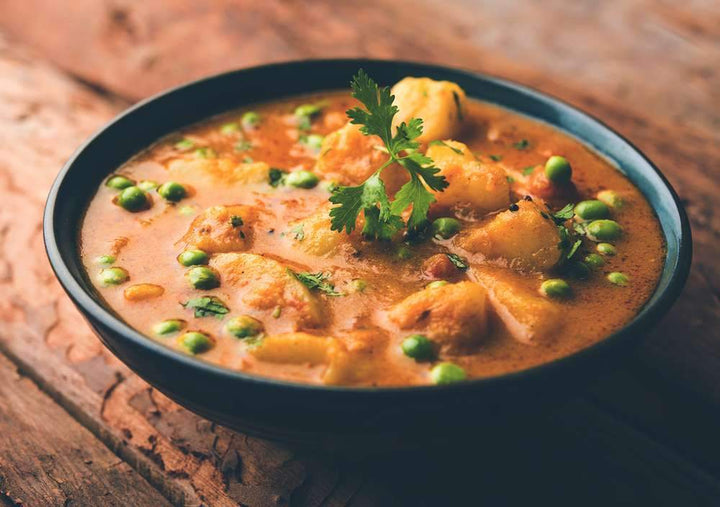 I made up this potato curry with peas and carrots recipe after receiving the Curry Lover's Gift Box in the mail just after Christmas, and then posted it on my food blog,
The Alchemist
. It's cheap, uses ingredients commonly on-hand in the pantry, and came out so rich and delicious that it's going to be a staple recipe now!
Submitted by: Genevieve from Chicago, IL
Yield: 4
Spices
Featured in this Recipe
Preparation Instructions:


In a large, heavy-bottomed skillet, heat the oil over medium heat. When hot, add the hot curry powder and stir it around for 30 seconds. Add the onions to the pan and saute until they are tender and a bit golden. When you're there, add the carrots, potatoes, and minced garlic.



Give it all a good stir, and then add about a half cup each of water and coconut milk. Stir in the turmeric, salt, and coriander. Reduce the heat to low and cover it. Check every so often to stir the pot and check the moisture level.



When the moisture is almost all absorbed, add more coconut milk and water, in equal parts. Continue to cook, stir, and add liquid until the vegetables are very tender and the curry is nice and thick. At this point, taste it to check that the spice levels are where you like them.



When you're there, stir in the peas and the rest of the coconut milk (and water if necessary), and cook it for another 3 minutes or so, until the peas are heated through and the curry thickens up again. Serve over brown rice. Makes 4 generous servings.


More About This Recipe
The coconut milk, while a delicious, rich and creamy addition, can be replaced with water or a flavorful broth, if desired. For additional pictures and the story behind the recipe, visit The Alchemist Blog
If you enjoyed this recipe, check out more curry recipes here.
Browse For Similar Recipes