Korean-Inspired Cucumber Salad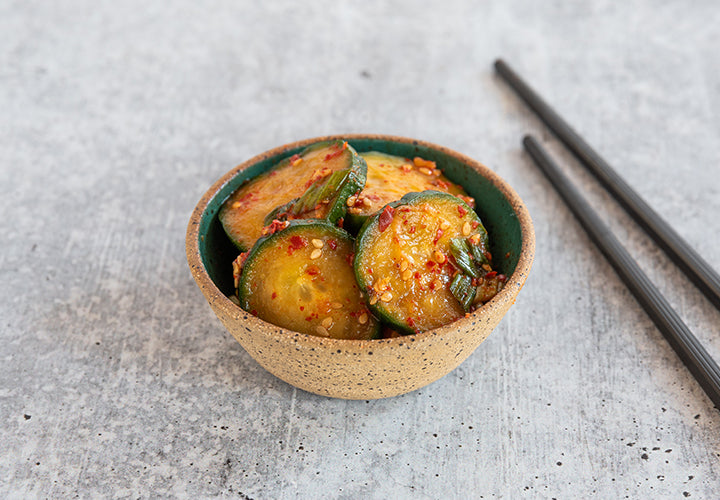 These crunchy and savory cukes make an excellent side dish for grilled short ribs. You can also scatter them atop any of your favorite leafy salads. This recipe is great for customizing with your favorite veggies. Try adding shredded carrots, sliced radishes, fresh peppers, or sliced sweet onion to the mix.
Submitted by: Geoff from Chicago, IL
Yield: 4-6 servings
Spices
Featured in this Recipe
Preparation Instructions:
Slice cucumber into coins, roughly 1/4 inch thick.

Place sliced cucumbers in a large bowl or colander. Coat them with salt. Let sit for 20-30 minutes. This draws out excess moisture and makes them crunchier.

While cucumbers brine, stir together all other ingredients in a mixing bowl. (You may want to stir in scallions last.)

Gently rinse the salted cucumbers under cold water to remove excess salt, drain off water completely. You may have to rinse several times as the salad dressing can be fairly salty.

Toss cucumbers in the dressing mixture and let rest in the refrigerator for one hour.

Serve chilled with grilled fish or barbecue beef.

More About This Recipe
The cucumbers are even better if they sit in the refrigerator overnight to marinate. This recipe has a few suggested measurements. You should feel free to make this as spicy, sweet, or garlicky as you wish.