Vegan Spring Vegetable Galette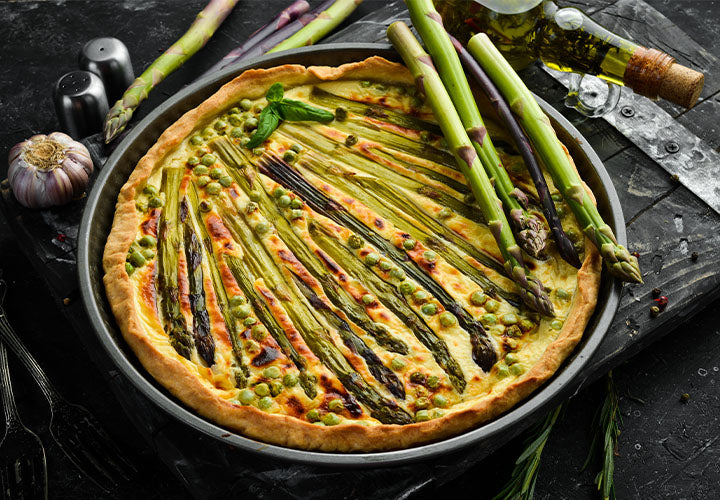 This flavorful galette is a delicious way to use spring vegetables, and an excellent brunch option! Dill pollen lends a delicate and pronounced flavor to balance these ingredients.
Submitted by: Stephanie S. from Milwaukee, WI
Yield: 6-8 servings
Spices
Featured in this Recipe
Preparation Instructions:
For the Flaky Crust:

Mix the flour, salt and sugar together in a large bowl. Cut in the butter by hand or with a paddle attachment, leaving some pea-sized chunks. Fold in the ice water 1 tablespoon at a time, until you can form the dough into a ball. Press it into a disk and let rest for 15 minutes. If the butter feels soft, you can refrigerate it. To form the galette, roll out the dough over a floured surface and use a rolling pin to form it into a circle 11" in diameter and about 1/8" thick. Gently transfer to a large pizza stone or whatever large baking sheet you'll be using.

For the filling:

In a large frying pan, add the lemon-infused olive oil, and bring to a simmer on medium heat. Stack the ingredients in this order: garlic, oyster mushrooms, asparagus and broccolini. Sprinkle ¼ tsp fine Himalayan pink salt over it all, cover and cook for 7-10 minutes (do not stir) until the oyster mushrooms and garlic begin to brown, and the asparagus is beginning to get tender. Add in the peas and cover again, and turn off the heat.

For the tofu ricotta:

Drain tofu for about 20 minutes while getting the rest of the ingredients together. Place all the other ingredients in a food processor, when tofu is drained, break it into fourths and add it in. Pulse until the consistency is like that of ricotta. Makes about 3.5 cups.

For assembly:

Preheat your oven to 350F. Lay out the galette dough flat on your baking surface. Sprinkle with a light dusting of Dill Pollen. Spread about 1½ cups worth of tofu ricotta on the dough, leaving 1.5" from the rim to allow for folding over. Do another light dusting of the dill pollen over the tofu ricotta, then lay down the green onion slices and a bed of spinach leaves. Spread the remaining vegetables over this, lining the asparagus on top. Take the ends of the crust, and working in small sections, pull over the filling about 3 inches, pinching together as you go. This may take some time, so be patient while you get the hang of it. When you feel confident the innards will not spill out, place the galette on the middle rack in the pre-heated oven. Bake for 30 minutes, checking every 10 minutes to ensure the exposed vegetables on top are not burning. If they are starting to look browned, cover with a small sheet of aluminum foil until the 30 minutes are up and the crust is looking golden. Once out of the oven, sprinkle about a teaspoon's worth of dill pollen over the exposed filling. Let cool for at least 5 minutes before serving. Serve with a lemon wedge if desired.

More About This Recipe
If you aren't confident in your flaky pastry skills, you can always opt for pre-made frozen phyllo dough or store bought flaky crust. Ensure your asparagus from the grocer is firm and not limp. The desired diameter will be about ¼"-1/3", otherwise it won't cook evenly.
If you enjoyed this recipe, check out more baking recipes here.
Browse For Similar Recipes