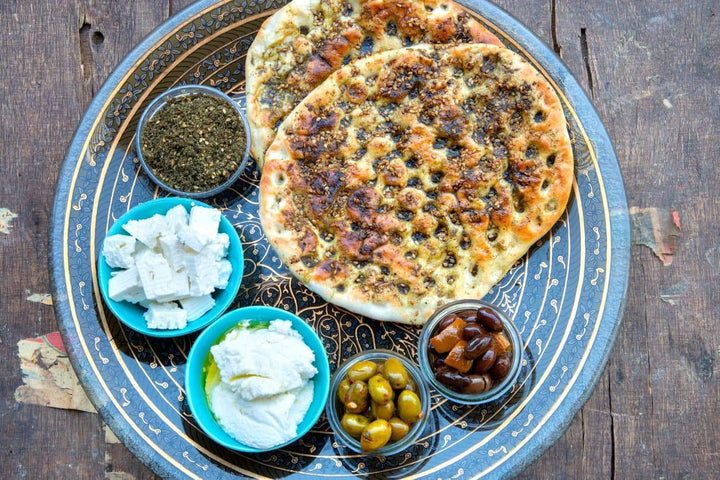 Nothing is better than warm flatbread, fresh out of the oven. Serve this with a table spread of feta cheese, hummus, and olives. Many grocery stores carry pre-made dough, commonly for pizza. This can be found at Whole Foods and Trader Joes.
To make fresh dough at home, see our helpful hints below for a simple bread dough recipe.
Submitted by: anonymous from Milwaukee, Wisconsin
Yield: 12
Spices
Featured in this Recipe
Preparation Instructions:
Preheat oven to 475 degrees. Line 2 baking sheets with kitchen parchment and brush with the vegetable oil.

Divide the dough in half and roll one piece into a 12" round,1/4" thick, on a lightly floured surface. Allow the dough to relax if it's too elastic to roll out easily. Transfer it to one of the baking sheets, brush with olive oil, then sprinkle a few tablespoons of Za'atar on top. Repeat with second piece of dough. Bake until they brown and blister, about 8-10 minutes. Cut into wedges, slices, strips or break into random pieces.
More About This Recipe
May be rolled into small breadsticks. Simple bread dough recipe: 1-1/4 cup luke warm water 3 tsp instant yeast 2 tsp sugar 1tsp salt 3 cups flour 1 tbl olive oil Combine yeast, sugar, water, and salt. Let sit for 5-15 minutes. In a large bowl combine yeast water, oil, and flour. Knead dough into a ball. Coat dough with a spot of extra olive oil, cover with a damp cloth, and let sit for an hour to rise. Punch dough down, knead lightly, return damp cloth and let rise one more hour. You can now work the dough into flatbread or breadstick.