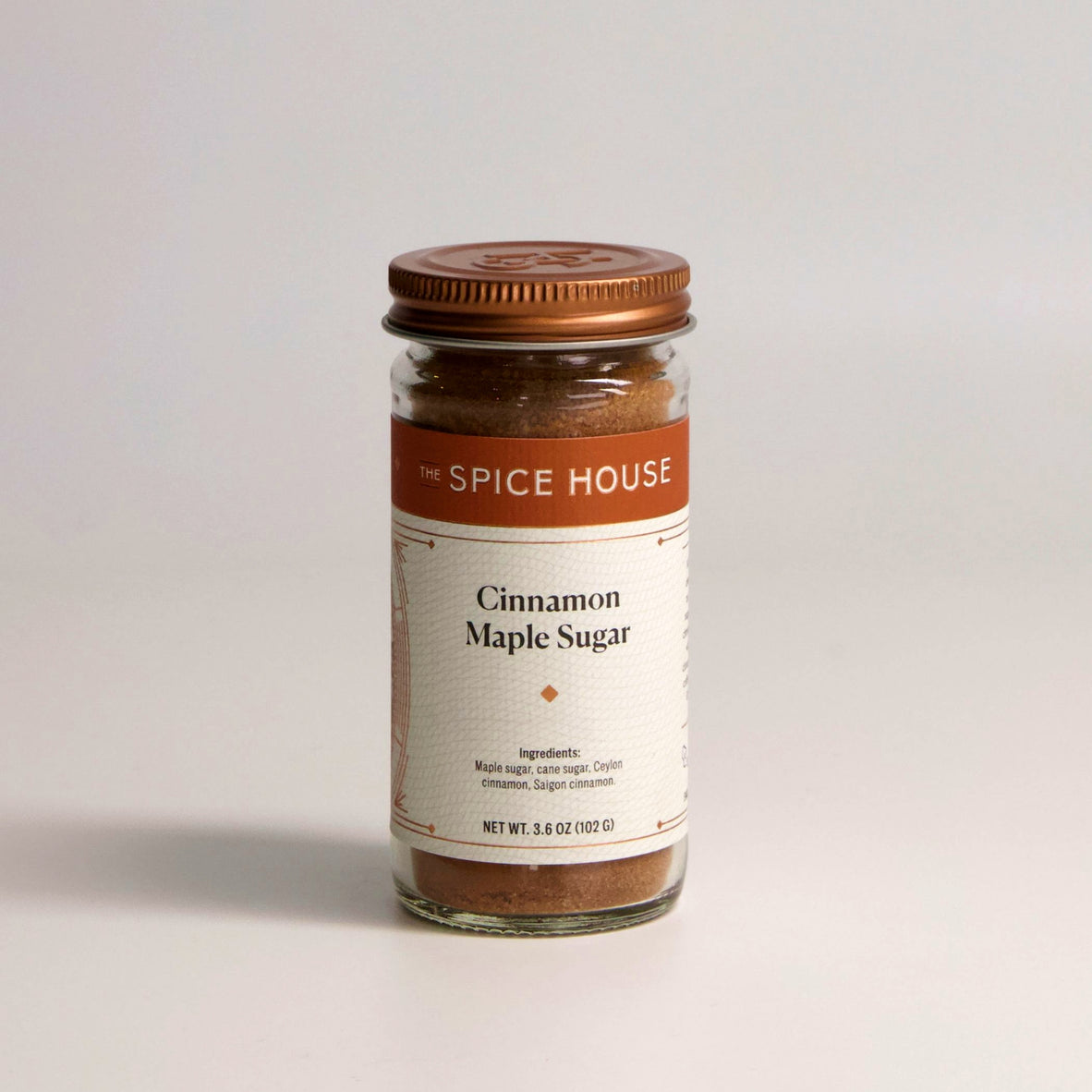 Buy It Again
Seasonal Favorite
Staff Tips & Tricks
Sprinkle over an ice cream sundae.
Add this to cream cheese frosting to coat a carrot cake.
Use this for the BEST baked apples, with butter and pecans.
Liven up a fresh fruit and yogurt parfait.
About This Spice
At the heart of Cinnamon Maple Sugar is the delicate sweetness of pure maple syrup. Maple sugar is then expertly blended with the finest cinnamon, renowned for its fragrant aroma and a hint of spiciness. The result is a versatile sweetener that elevates many dishes. From the morning's first cup of coffee to an evening dessert, its presence transforms the ordinary into extraordinary.
Saigon cinnamon is beloved for its strong and sweet demeanor, while Ceylon cinnamon is adored for its citrusy subtleness. Those aromatics add a tasty top note to the woodsy and roasted base flavor of maple sugar. A touch of classic cane sugar brings a familiar sweetness, resulting in your new favorite pasty finisher, beverage enhancer, and dessert upgrade. Pass the waffles, please!
Cinnamon Maple Sugar Key Features:
Gourmet Fusion: An exquisite blend of pure maple sugar and high-quality cinnamon.

Natural Sweetener: Derived from the sap of maple trees, offering an authentic, unrefined sweetness.

Flavor Profile: A harmonious balance of the deep, natural sweetness of maple and the aromatic warmth of cinnamon.

Versatile Culinary Companion: A delightful addition to beverages, breakfast dishes, baked goods, and even savory recipes.

Pure and Authentic: Free from artificial additives and preservatives, ensuring a genuine taste experience.
Dive into the world of Cinnamon Maple Sugar and let the melodies of nature's finest flavors serenade your senses.
Ingredients
Maple sugar, cane sugar, Ceylon cinnamon, Saigon cinnamon.
Complete Your Set
& Save 5%
Original Price:
Bundle Price: (Save 5%)
Spices
Frequently Bought Together
So fresh!
I have not used them all but find them so fresh.
Yum!
Perfect blend of cinnamon and sugar for my special coffee cake!
Cinnamon Maple Sugar
My family loves this on Sweet Potatoes!!!
Cinnamon Maple Sugar
This cinnamon sugar is THE best! We love it for French Toast, cinnamon rolls and on English Muffins and toast! Definitely recommend!
Yum
I bought this to make the maple cinnamon cookies which turned out amazing! My family loved the cookies and I will be making them again.