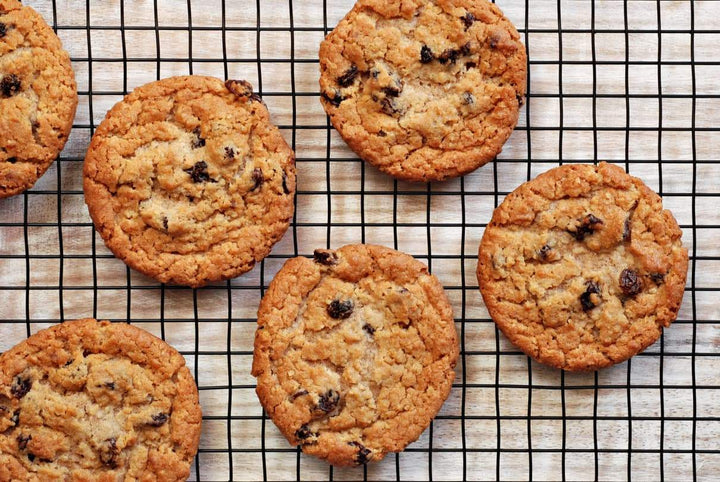 I'm from New York City, so the only kind of hermit I knew was a reclusive woman to whom we brought food, books and other things when I was a kid. This Hermit Cookie recipe, however, is a New England specialty. I have no idea where the name comes from unless it's from the Hermit Crab. Perhaps, it comes from the somewhat reserved, really it's more like shy, nature of many New Englanders. They just don't like to interfere. Anyway, Hermit Cookies are fragrant with spices. I found them a bit overwhelming, so I toned mine down and changed some of the ingredients. The idea of a delicious Hermit is to make it truly your own according to your taste preferences. Add your spices, tack on your family name, and you've got an instant family tradition!
Submitted by: Dorothy from Worcester, MA
Yield: About 10 Dozen Small Cookies
Spices
Featured in this Recipe
Preparation Instructions:


Sift together all of the dry ingredients and spices.


In a mixing bowl, cream butter and sugar until smooth.


Beat the eggs lightly first, then add the eggs to the butter and sugar. Mix well.


Add molasses. Mix.


Add milk. Mix.


Add dry ingredients. Mix


By hand, stir in raisins and powdered pure vanilla powder.


Form dough into a ball. Wrap tightly in plastic wrap. Refrigerate for 2 hours.


Preheat the oven to 350 degrees. If your oven runs hot, turn it down to 325 degrees.


Lightly flour a board. Cut dough in half. Roll out one half of the dough into a sheet about 1/8 inch thick. Cut into whatever shapes you prefer. Most people make them into small rounds. Keep other half of dough refrigerated while working on the first batch.


Place on non-stick cookie sheet or thoroughly greased cookie sheet. Bake for about 10 minutes. Cool on a rack.


More About This Recipe
Traditional Hermits can be made with molasses or without. The non-molasses version contains a hefty amount of just two spices: 1 teaspoon each of cloves and nutmeg. It also uses 1 teaspoon of baking soda instead of baking powder. You'd add 3 eggs instead of 2 eggs. And, you'd need 3 cups of flour and 1 cup of butter. You'd need 1 and ½ cups of sugar without the molasses. Raisins would be the same. Hermits do not usually contain mace or cardamom. I put them in because I like the taste. A Hermit can be any type of spice mix you enjoy. The Spice House has a wide variety of fresh spices. The quality of the spices really determine the quality of the cookie. Make your Hermits to your tastes! Do not use baking powder with alum, as it will affect the taste of the cookies.
If you enjoyed this recipe, check out more baking recipes here.
Browse For Similar Recipes