Dorothy's Stefado (Greek Beef Stew)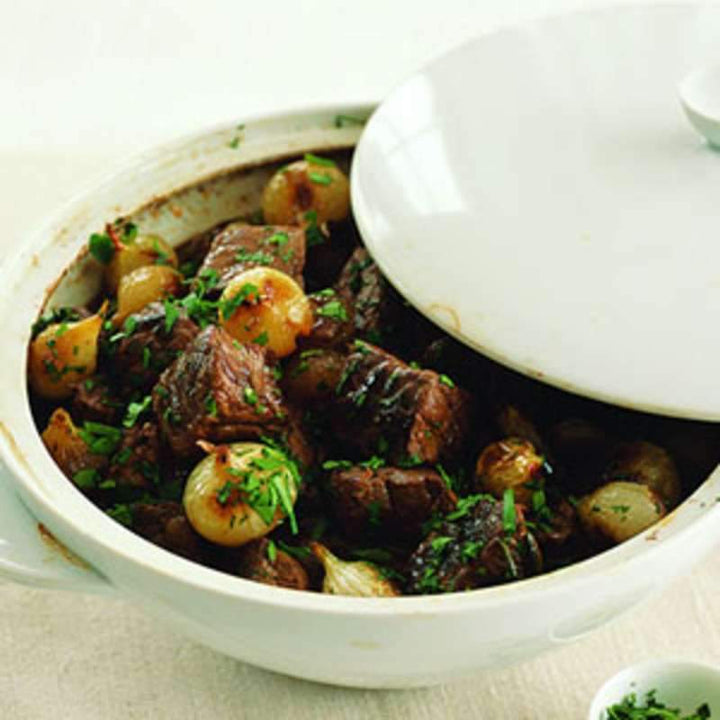 This is a Greek beef stew made with small onions. This is my mom's recipe, and every Fall--without fail--you could smell it simmering in the kitchen. Serve it with a large bowl of mashed potatoes. Of course a Greek salad, some feta & olives, and crusty bread give this meal the final touches. The onions can be time consuming to clean, but well worth it when your family sits down to eat. The leftovers are great too!
Submitted by: Kathy from Glenview, IL
Yield: 10 - 12 servings
Spices
Featured in this Recipe
Preparation Instructions:
In a large soup pot, cook beef in oil until browned. Remove beef, and set aside. Mix sugar into the drippings, add onions, and cook until golden. Remove onions from pan.

Return beef to the pot, and place onions on top. Mix the tomato paste, wine, and wine vinegar together, and add to saucepan. Place the garlic, pickling spices, bay leaf, cinnamon, and rosemary in a spice bag; add to the pan. Season with salt and pepper. Cover, and simmer for 2 to 3 hours, adding more liquid if necessary.
More About This Recipe
The onions let out liquid as they cook, so be careful not to add too much water at the beginning. When stew is done, remember to remove the spice bag. If you prefer, you can cook this in a roaster, in your oven, at 275 degrees F(135 degrees C). Watch the time though; it may take longer.
Browse For Similar Recipes