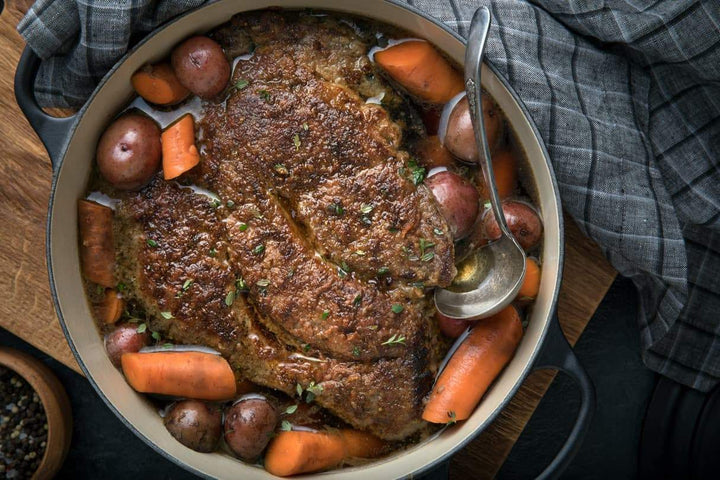 This homemade pot roast recipe was given to us by Spice House customer Brenda Gountis.
Spices
Featured in this Recipe
Preparation Instructions:


Cut Roast in 4 even hunks and set it on a plate to bring it to room temperature.


Plug 6 quart Crock pot in and set to High to pre-heat it.


Sprinkle roast with 1 tablespoon kosher salt


Heat 1 tablespoon of the oil in a deep heavy-bottom stock pot and brown meat in 2 batches and be sure to watch the heat and not let the juices brown. Turn the meat so all sides are well browned. As soon as a portion of the meat is sufficiently browned on all sides, place it in the Crock Pot.


Once all the meat is browned, pour the wine in the stock pot and simmer to reduce to &frac14 cup. add the beef broth and scrape up any fond clinging to the bottom of the stock pot then pour the juices into the Crock Pot.


Stir in remaining water and add the Spice Mix. Place veggies on top (they do not need to be submerged to cook, they will steam). Place the lid on and cook the Pot Roast on high for 6 hours.


More About This Recipe
I usually quadruple the spice mix recipe so I have it on hand to use. I use 1 t. of the mix per pound of roast and add one bay leaf per roast. Then I know all I need at the store is the roast, some carrots, and potatoes as I always have beef broth and red wine on hand. This turns out very tender meat and very flavorful red "Pot Liqueur" that I usually serve with with home made bread or over steamed brown rice.
Browse For Similar Recipes