Vegetarian Chili with Sweet Potato and Quinoa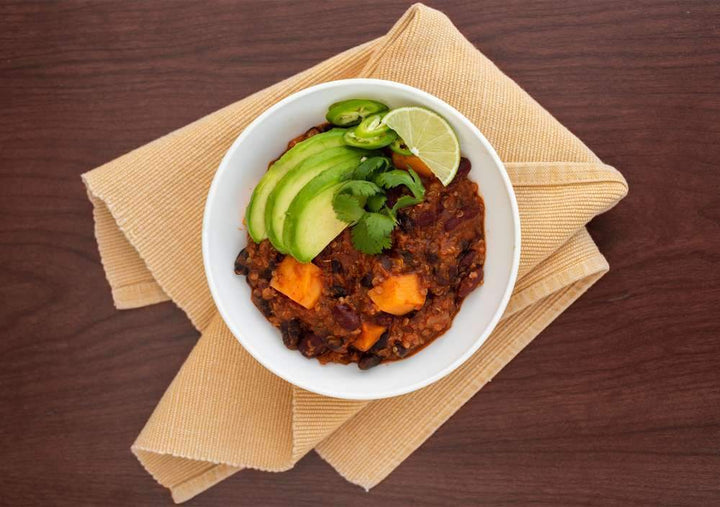 Shortcut: instead of using each of the individual spices, you can substitute 4 Tbsp of our Chile Con Carne blend. As with all recipes, adjust seasoning to taste. Spice House mild chile powder is very flavorful without heat. Or try our Medium or Hot, and experiment by adding a 1/2 teaspoon of our Chipotle chili powder for smoky heat. Of course, use whatever beans you prefer. I like dark kidney and black beans for firmness and color.
Yield: Serves 4-6
Spices
Featured in this Recipe
Preparation Instructions:
1. In large pot, or Dutch oven, heat oil over medium heat.
2. Add onions, cook until soft and they start to turn brown (about 7– 10 minutes).
3. Season with salt, and add garlic, cook for another minute or so.
4. Add the tomato paste, chili powder, cumin, oregano, garlic powder and onion powder, cook for 2 more minutes stirring constantly.
5. Add tomatoes, liquids, sweet potato, beans and gently stir until combined.
6. Add quinoa, bring to a boil, reduce heat, cover slightly ajar and cook at a bubbling simmer for 30–40 minutes, stirring occasionally.

Chili is ready when sweet potatoes are tender when pierced with a fork. Add additional water if it's too thick.

Optional: garnish with diced avocado, cilantro, lime, sour cream (dairy or vegan option).




More About This Recipe
You can add 'hot" spices but since you can't remove them, start with small quantities and taste to achieve your perfect level of heat.
Browse For Similar Recipes