Barbecue Deluxe Collection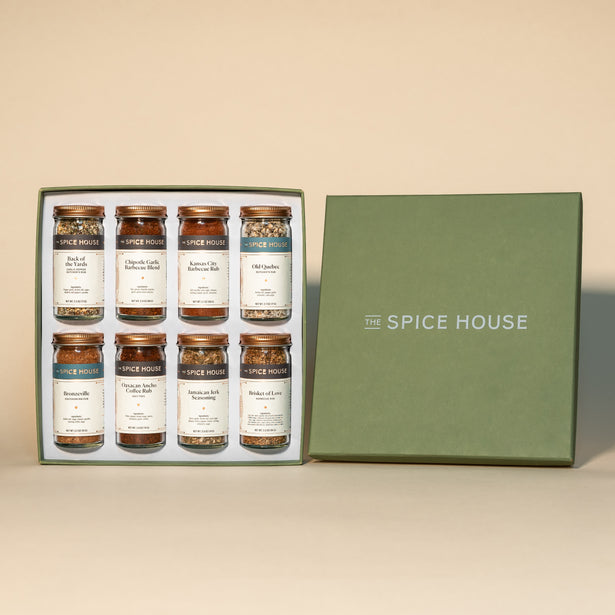 Barbecue Deluxe Collection
Hopeful pit masters spend years working in the shadow of BBQ masters. These legends are the ones who dominate meats of all cuts and kinds, achieve the perfect balance between smoke and heat, and develop a signature rub or marinade to showcase their eminence. While we can't guarantee such grill greatness, we can help you notch a few victories on your own BBQ tongs. The seasonings, rubs, and spices in this collection are your short cut to showstopping jerk chicken or unforgettable Kansas City-style brisket.
*Please note: Gift box appearance may vary.
Have any questions? Review our
FAQ
FAQs

How quickly can I get my order?

Orders usually take 7 to 10 days to fulfill plus shipping time of 5 to 7 business days, although we will try to get your order out as quickly as possible. During our busy holiday season, this can sometimes be longer so we encourage you to get your order in early.

Can I customize my gift box?

Yes, we would be happy to create a custom gift box with your selection of spices, or add a branded gift note, on orders of 100 units or more. For a custom gift box order, please email wholesale@thespicehouse.com.

Can you ship to multiple addresses?

Yes, absolutely! Please select "multiple shipping locations" at the check out and once your order is placed, our team will be in contact to get your addresses.

What does the notecard look like?

Our notecard is printed on premium cardstock with The Spice House logo, and a message of your choice. We cannot include custom logos.

What is the minimum order quantity?

We accept gift orders of 25 or more. For an order from 10 to 24 units, we would be happy to help at one of our store locations. For orders under 10 units, these must be placed through the website and will not include discounted pricing.
Need any help?
If you have trouble placing an order, please contact support@thespicehouse.com
Contact Us
Complete Your Set
& Save 5%
Original Price:
Bundle Price: (Save 5%)
Great Selection
I bought this for our son-in-law for Father's Day. He loves to cook and especially grill. He was very happy with his gift.
General review
We found this great spice house years ago on Wells street in Chicago across for the Bistro Margaux.
We have since patronized all of their locations and have been buying our spices from them exclusively. Now that were in FL, only wish we could visit them more !!
Absolutely awesome.
I order this spice set for a Christmas present. I was having trouble uploading my tracking for my package, so I contacted customer service. Less than 24 hours I had a reply and the gentleman seemed genuinely like he cared and wanted me to get the package. He made sure to personally track my package and make sure I got it delivered to me. I have never had such incredible customer service before. Along with that the spices were absolutely delicious and my gift was one of the best he had received this holiday! Thank you so much Spice House!