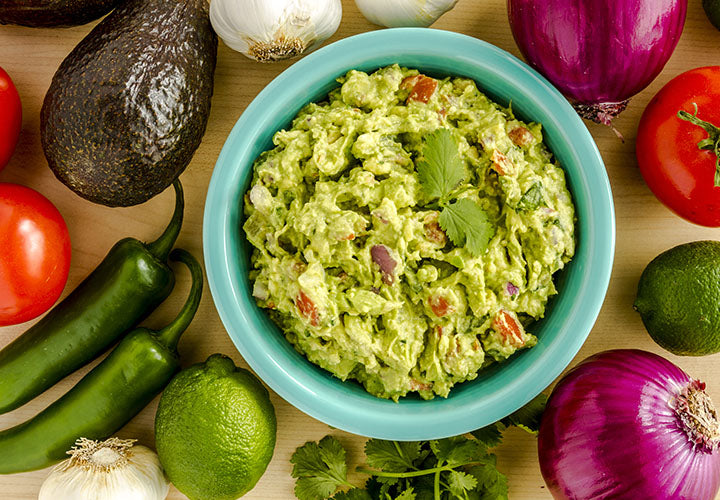 The secret to any delicious guacamole is fresh ingredients, and that goes for spices too. The Spice House's hand-blended Pilsen Spicy Adobo Seasoning is a perfect balance of savory, aromatic, and fiery flavors to season guacamole with.
Preparation Instructions:
Carefully slice open avocados and remove the pit. In a large mixing bowl, mash avocados with a fork or potato masher. Add onion, tomato, garlic, Pilsen seasoning, and serrano pepper (optional). Mix ingredients together.

Roll lime on a cutting board to loosen the juice inside. Slice lime in half and squeeze juice over guacamole. Fold in cilantro, taste the guacamole and make any last adjustments to taste.

Serve with tortilla chips and garnish with cilantro leaves, serrano slices, or radish rounds.
More About This Recipe
Try dry-roasting the serrano chile first for more developed flavors. Fresh cilantro stems can be used as much as the leaves. Don't be afraid to add them to recipes, especially guac. They have lots of flavor and texture to add as well. Avocado tips: Avocados are ripe when their skin is a purple-brown and not green. They will give in slightly when pressed with a thumb. Elongated Hass avocados with finer bumps on its skin tend to have a smaller pit than the fatter, globe-shaped Hass avocados. Smaller pit = more flesh.
Browse For Similar Recipes