Thai Fried Snapper with Tangy Sauce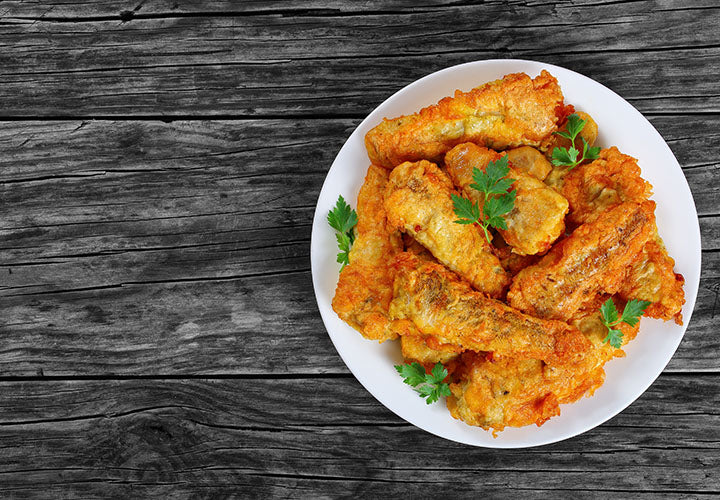 To make the most of sansho pepper, black garlic, and chilies in a single dish, I came up with the "Tangy Sauce." The Black Garlic provides a solid, flavorful base to the sauce, Chile de Arbol adds heat, and the Sansho Pepper marries with the vinegar for a fragrant, tart finish. Fish was the perfect vehicle for the Argyle Street Asian Blend, and my dad provided fresh snapper the day before I had planned to cook. The light egg white/corn starch coating creates a light crust that captures and mingles the flavors of the sauce with the seasonings on the fish for a harmonious, delicious bite. Together, these flavors create a delicious, Asian-inspired dish. On their own and in myriad other combinations, these wonderful ingredients from The Spice House will open up a whole new world of recipes and experiences in your kitchen.
Submitted by: Gary from 37 Cooks,

Spices
Featured in this Recipe
Preparation Instructions:
For the fish: Rinse the fish pieces under cold water; pat dry. Season with 1 teaspoon Argyle Street Asian Blend, salt and pepper to taste. Cover and refrigerate until ready to cook. In a shallow bowl, combine egg white, corn starch, mirin, pinch of salt, white pepper, garlic powder and 1 Tablespoon Argyle Street seasoning. Whisk to mix well.

Heat peanut oil over medium-high heat to 375°F. Coat fish pieces evenly with egg white mixture, shaking off any excess. Fry fish until golden brown, about 3-4 minutes, turning occasionally. Remove to paper towels to drain. Keep warm until ready to serve.

For the sauce: In a nonreactive sauce pan, bring stock, sugar, vinegar, and oyster sauce to a boil. Add black garlic, Sansho pepper, Chile de Arbol, and ginger. Combine corn starch with water. Stirring constantly, add corn starch slurry to sauce. Stir until thickened, reduce heat and simmer, covered, for 5 minutes. Check seasonings (salt may be needed, depending upon saltiness of the stock).

To serve: Arrange fish on a platter or bed of vegetables or rice. Stir fish sauce into sauce mixture, check seasonings once more, and spoon over fish. Garnish with scallions or sesame seeds and serve immediately.
Browse For Similar Recipes