Chicken Enchiladas in Red Sauce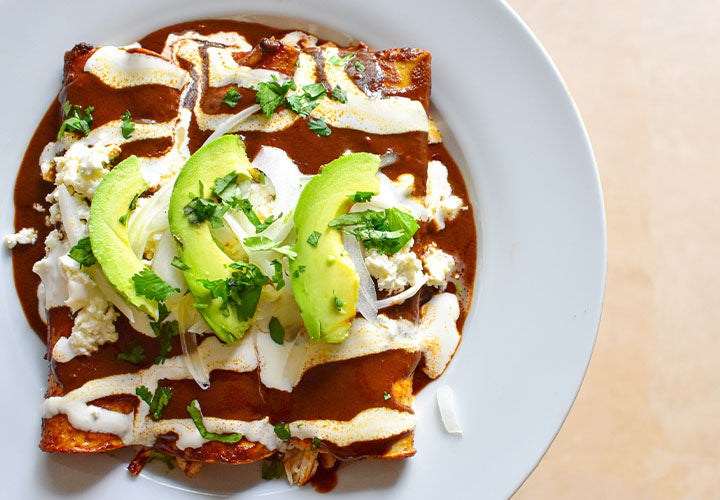 The sweet, earthy, and mild flavor of the Ancho chile makes it the perfect base for an enchilada sauce. Feel free to include other popular dried chile peppers like Guajillo or New Mexican.
This recipe uses whole dried chiles and fresh tomatoes. For an easier and faster version of this recipe, see the hints below.
Submitted by: Geoff Marshall from Chicago, IL
Yield: 2 dozen enchiladas
Spices
Featured in this Recipe
Preparation Instructions:
POACHED CHICKEN:

Bring 8-10 cups of water to a boil. Add salt, bay leaves, peppercorns, and half an onion to the pot. (Onion should be cut into two large quarter pieces, still attached to the root stem. Remove paper skin.)

Reduce boil to a simmer, gently submerge chicken breasts. Simmer for 15-20 minutes until internal temperature reaches 165 degrees fahrenheit.

Set aside one cup of chicken poaching water for the red sauce.

Remove chicken breasts and onion. Put on a plate and let cool to room temperature. Using a fork or your hands, pull chicken apart into small pieces. Dice the cooked pieces of onion and combine with the pulled/shredded chicken. This is the filling for the enchiladas.

Discard remaining water, bay leaves, and peppercorns.



ENCHILADA SAUCE

Remove stems, seeds, and seed veins from Ancho chiles. In a dry cast-iron skillet, gently toast chiles to warm up their flavors. Be careful not to burn the chile peppers, as they can turn bitter in flavor.

Bring 2 cups of water to boil. Place toasted chiles in a bowl, pour hot water over the chiles, cover with plastic wrap, and let steam for 15 - 20 minutes.

While chiles are steaming, add tomatoes, garlic cloves, and the quartered onion to the skillet. (Cut onions the same way as for the poached chicken, peeled, quartered, attached to the root stem.)

Gently toast and char these ingredients to cook them slightly and give them a roasted flavor. Rotate the ingredients fairly often, so they get even charring on all sides.

Add these ingredients to a blender with the rehydrated Ancho chiles. Add 1 cup of the reserved chicken poaching liquid along with a 1/3 cup of the chile pepper broth. Pulse and blend these ingredients until thoroughly pureed.

Strain sauce through a wire sieve into a cooking pot. Add spices and chicken broth base to the red sauce and stir to combine. Simmer and gently reduce sauce for 20 minutes. Taste sauce and adjust seasoning and salt amount to your preference.



ENCHILADA ASSEMBLY

Preheat oven to 350 degrees fahrenheit.

Lightly warm the corn tortillas in a skillet, and keep them warm in a clean kitchen towel.

In a casserole dish, pour enough red sauce to cover the bottom of the dish.

Place shredded chicken on a warmed tortilla and roll into a log shape. Lay the stuffed tortilla into the dish, and repeat until the dish is as filled. (You may require 2 casserole pans for this full recipe.)

Cover stuffed tortillas with more sauce on top, and coat everything in shredded or crumbled cheese.

Bake in the oven for 15-20 minutes or until the cheese has melted.

Garnish with with more red sauce, more cheese, sour cream, sliced onions, and sliced avocado.
More About This Recipe
For a faster version, you can substitute the fresh tomatoes for a can of roasted tomatoes. You can also use ground ancho chiles instead of the whole ones. Use 1 tablespoons of ancho chiles for every whole chile pepper called for.
Browse For Similar Recipes