Spinach Salad with Hot Bacon Dressing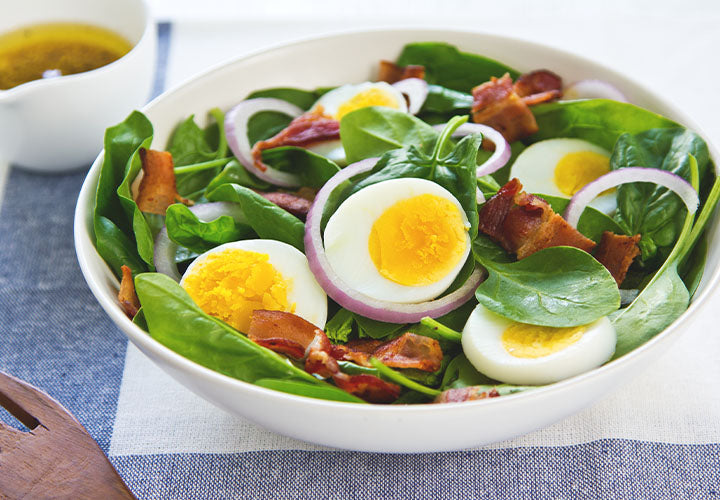 This is a recipe that has developed over 20 years. The origins of the recipe are in a cookbook from Sunset Magazine, but I am sure that they wouldn't recognize it now. It is a family treasure. It is something that our extended family has viewed as a staple of the holidays---whatever holiday it is. The one year that I broke my arm, I was allowed to not make it for Thanksgiving, but that I had better recuperate enough to make it for Christmas. It was a great incentive to do so :-), and it was there for Christmas dinner. I am submitting it with the permission of my family. This is not something that I would suggest be eaten on a daily basis, but..........
Submitted by: Louise from Milwaukee, Wisconsin
Yield: 15 servings
Spices
Featured in this Recipe
Preparation Instructions:
Make the croutons:

In a 14 inch skillet melt butter on very low heat and add spices. Mix very well. Add bread cubes and coat thoroghly. Remove and toast in the oven (about 275 degrees) until croutons crisp up. Remove.

Make the hot bacon dressing:

Slowly cook bacon on medium low in a cast iron skillet, rendering fat and setting it aside. While the bacon is cooking, check to see that the spinach is clean and then remove all the stems. When the bacon is finished cooking, discard all but ½ cup of the bacon grease, allowing it to stay in the skillet. Add the flour and stir it constantly for about 2 minutes on a low heat. (This is called "making a roux" and is an absolute necessity!) Remove from the heat. In a separate container, add the wine, the vinegar and water, all of the sugars and the mustard with a non-balloon whisk until it is smooth. Put the roux back on the heat and wait until it begins to bubble. Slowly add the wine mixture to the roux. Then cook over medium heat for two to five minutes or until the dressing is hot and thick.

Make the salad:

Place all the components in a large salad bowl. Than add the hot dressing and mix thoroughly, making sure that all the components are coated. Serve immediately.

More About This Recipe
Keep some of the croutons in a separate container for munching before the assembly of the salad. I usually make everything the night before and store it in the refrigerator---unassembled. That way you can take your time. You can either layer the salad or, as we do, mix the components in the bowl before dressing the salad. Add as much of the dressing as you like. The dressing lasts, refrigerated, for about a week. UNfortunately, in our family, the croutons might last throughout the meal.