Items Featured
In This Bundle
Garlic Butter Pepper Herb Rub
Sassafras trees line the highway leading to Rodney's original Bar-B-Q stop in Hemingway, South Carolina. Inspired, we blended lemony sassafras leaves with buttery notes of herb, allium, and green peppercorn. Perfect for popcorn, chicken wings, or buttermilk dressing.
Ingredients: Kosher salt, spices, monosodium glutamate, cane sugar, garlic, chiles, onion, mustard, sassafras, butter flavor.
Sodium Contents: 410mg per teaspoon.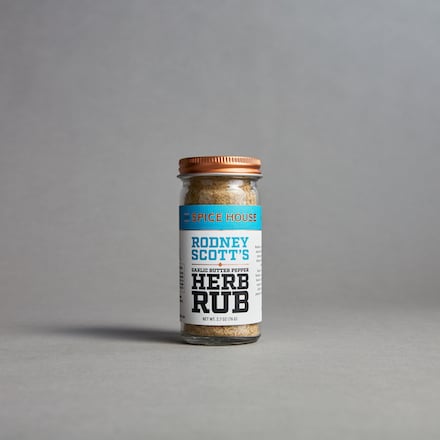 Carolina Fire Chile Rub
Barbecue is a slow burn to perfection. This blend builds momentum with ancho chile, cumin, porcini mushroom, and tomato before a fiery finish from Carolina reaper and habanero chiles. Use this for blackened fish, pulled pork, or an unbeatable burger.
Ingredients: Chiles, sugar, salt, monosodium glutamate, garlic, tomato, worcestershire (maltodextrin, distilled vinegar, molasses, corn syrup, caramel color, garlic, tamarind, natural flavor), spices, porcini, habanero, Carolina reaper.
Sodium Content: 160mg per teaspoon.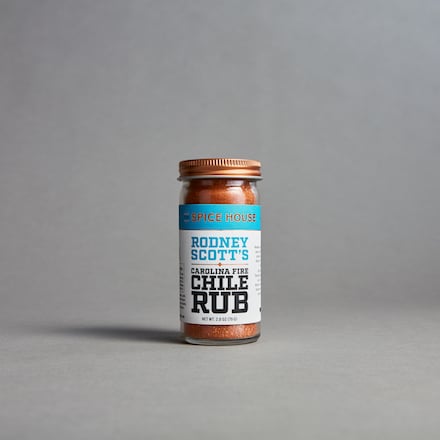 Smoky Sweet Chile Hickory Rub
Hickory and oak wood are staple fuels for Rodney's whole-hog barbecue. We infuse that spicy wood smoke flavor with a touch of guajillo chile heat and the right balance of sweet. Try it on smoked beef short rib and all cuts of pork or poultry.
Ingredients: Chiles, salt, spices, brown sugar, garlic, tomato, porcini, mustard, onion, parsely, worcestershire (maltodextrin, distilled vinegar, molasses, corn syrup, caramel color, tamarind, natural flavor), smoke flavor.
Sodium Content: 770mg per teaspoon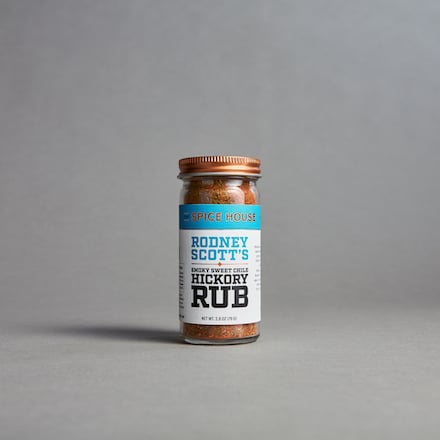 Green Chile Lime Citrus Rub
Developed in partnership with Rodney Scott, this zesty rub leans heavy on green New Mexican chiles and lime. Dried green mango and Sichuan peppercorn offer surprise flavors to this southwest-inspired blend. Whisk with oil and citrus juice for a poultry marinade, or use it as a dry rub for smoked pork ribs.
Ingredients: Kosher salt, green chile, cane sugar, lime, spices, green mango, garlic, monosodium glutamate, onion, chiles, parsley, Sichuan pepper.
Sodium Content: 230mg per teasooon.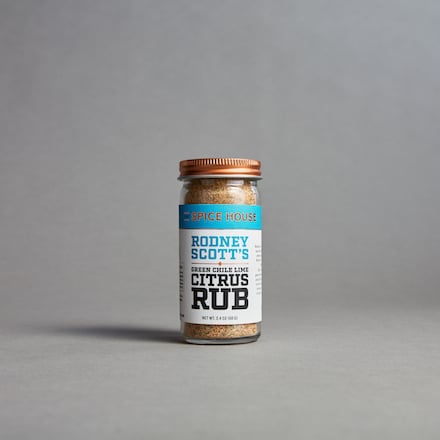 Ginger Chile Espresso Maple Rub
Mouthwatering pulled pork and perfect smoked chicken start with this blend of ginger, coffee, maple sugar, garlic, and crushed chiles. Try this on the grill with cedar plank salmon or skewered shrimp.
Ingredients: Maple sugar, kosher salt, brown sugar, chiles, ginger, spices, coffee, garlic, celery.
Sodium Content: 230mg per teaspoon.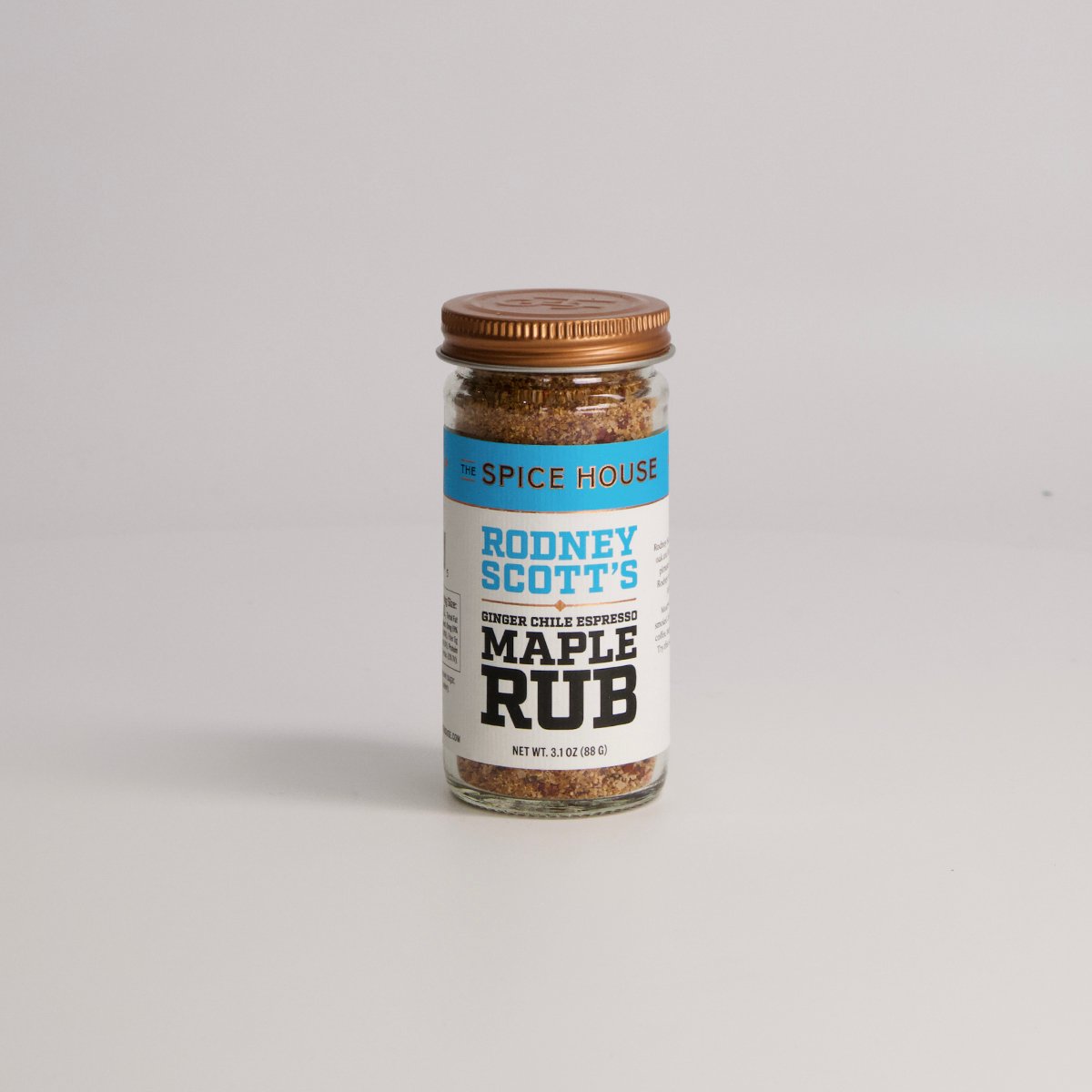 Black Chile Coffee Cocoa Rub
Subtle smokiness and a sweet-savory flavor make this coffee cocoa rub a favorite all-purpose seasoning. Rub it on a whole pork shoulder, sprinkle it over a ribeye for a cowboy steak, or add a spoonful to beans and chili.
Ingredients: Chiles, kosher salt, brown sugar, garlic, spices, cocoa, onion, coffee.
Sodium Content: 220mg per teaspoon.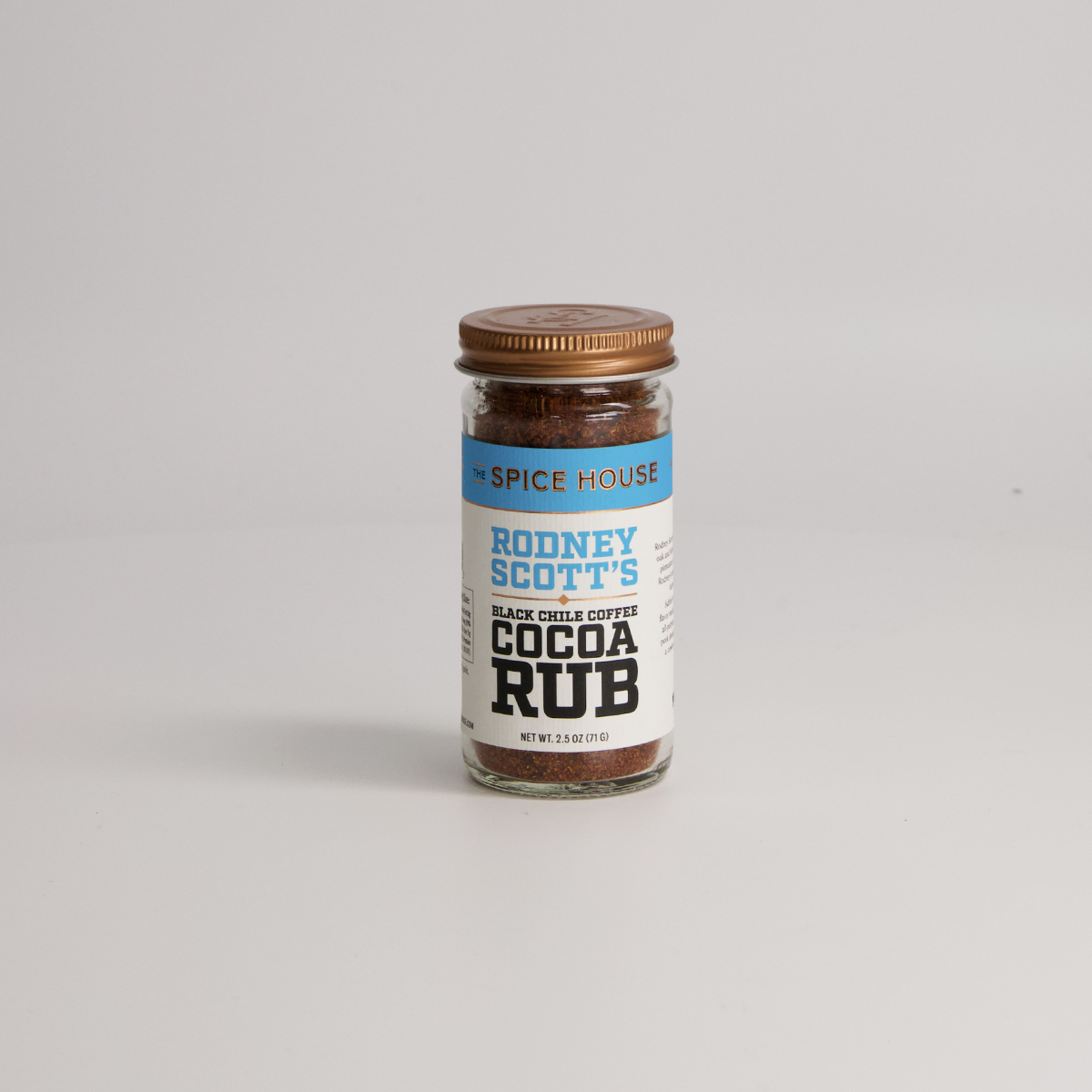 Black Garlic Sesame Gochugaru Rub
Inspired by Korean barbecue, we blended Gochugaru chiles, ginger, white pepper, and toasted sesame seed for the ultimate beef, pork, and poultry rub. Mix with soy sauce, oil, rice vinegar, and a touch of applesauce for a tasty marinade.
Ingredients: Gochugaru chiles, garlic, sesame, spices, kosher salt, onion, monosodium glutamate, cane sugar, mustard, lemon, nori.
Sodium Content: 110mg per teaspoon.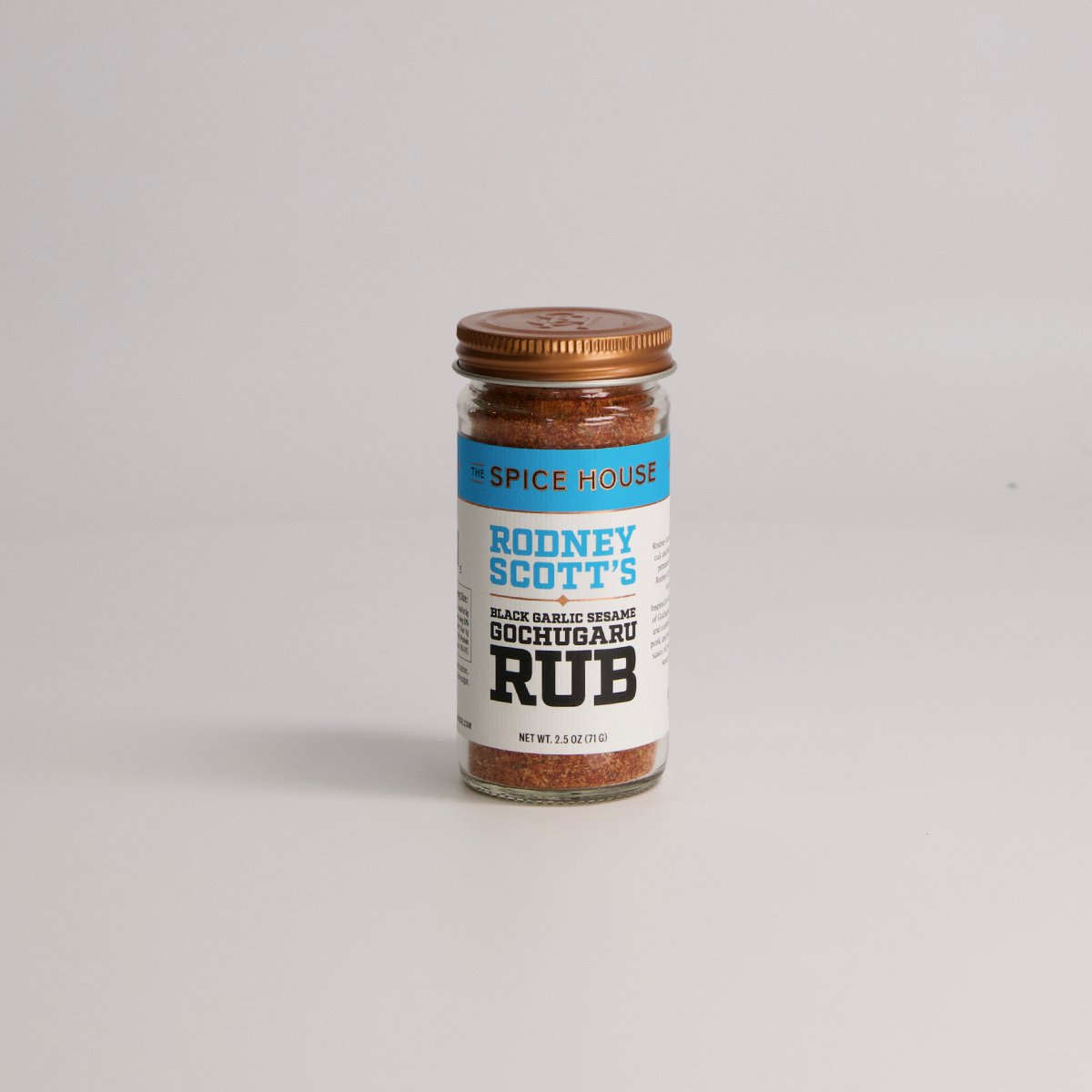 Porcini Garlic Herb Pepper Rub
Prime steak deserves this premium blend of cracked pepper, garlic, porcini mushroom, crushed juniper, and our special mix of herbs. Coat your favorite cut of beef or pork generously with this coarse pepper rub.
Ingredients: Sea salt, tellicherry pepper, garlic, cane sugar, juniper, chipotle chile, spices, parsley.
Sodium Content: 380mg per teaspoon.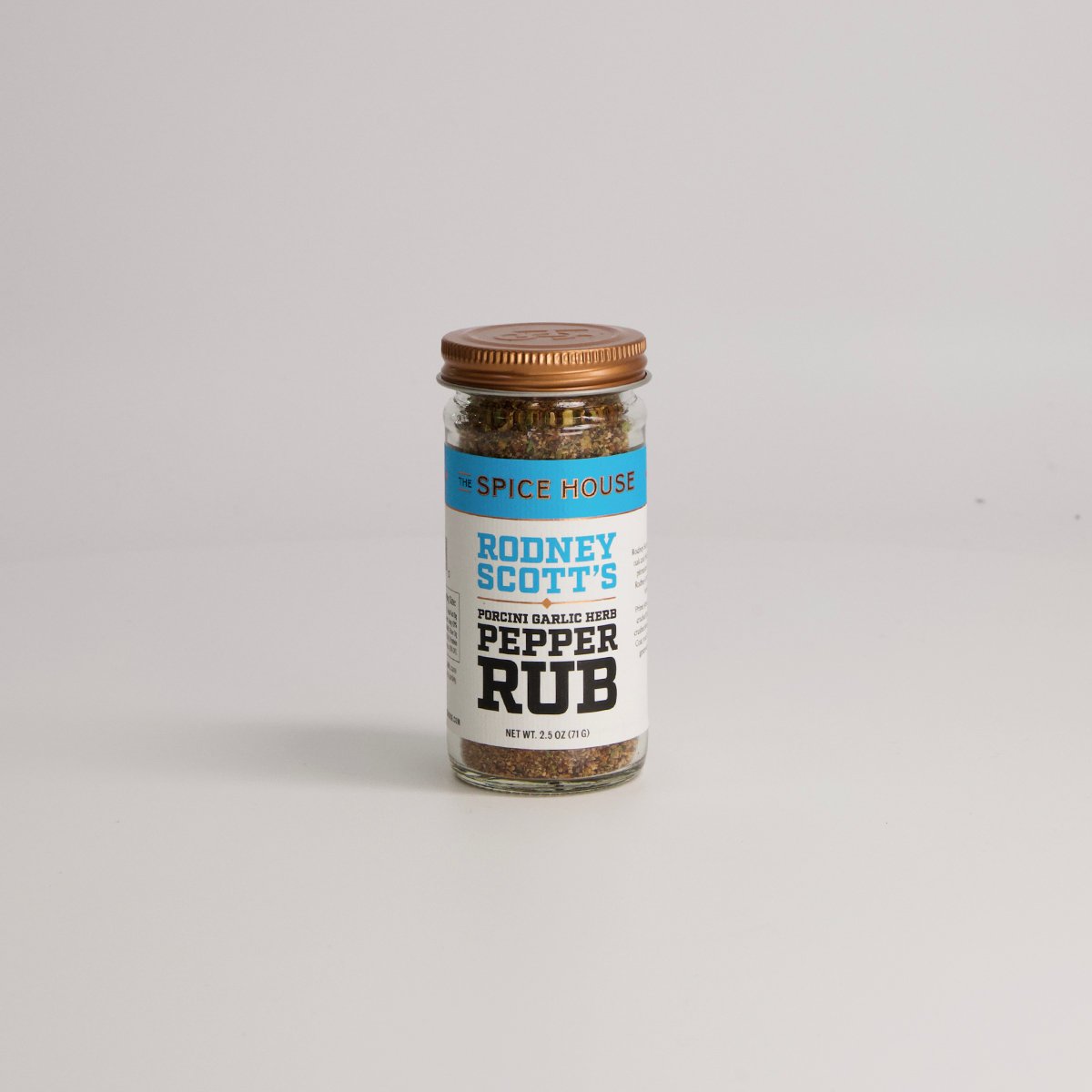 America's Favorite Pitmaster
Famous for traditional whole-hog barbecue, Rodney Scott has been cooking over hardwood coals since he was 11 years old.

Scott's decades-long dedication to the craft has attracted attention from countless food writers and earned him a James Beard Foundation's Award.

He has been the subject of several television features and his cookbook, Rodney Scott's World of BBQ, was released in the spring of 2021 to great fanfare, named one of the best cookbooks of the year.
RODNEY SCOTT BLENDS
Frequently Bought Together
Love to grill
Rodney's collection does not disappoint. Each one we have tried has been exceptional! My husband and I are avid keto fans spices make it all better!
Son's New Favorite
These were a gift for my son, who loves to cook. He let me know that he and his friends love the blends, and that he would highly recommend them.
Great gift
I received this collection as a gift and it was a really pleasant surprise. I was already a fan of SH, and I had the pleasure of visiting Rodney Scott's BBQ in Charleston and it was phenomenal. Awesome collab and a great addition to the spice cabinet
Not a fan
I have bought spices for many years from the Spice House & will likely continue. But I am not going to pay $2 to $5 dollars just for an endorsement. I do pretty good with the spices without the e endorsements. Just my opinion.